Children's Toys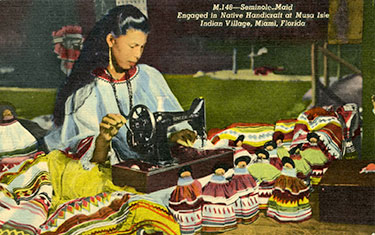 Seminole and Miccosukee dolls have been recorded since the late 19th century, however these early dolls were no more than simple toys for children made out of sticks and rags. By the early 20th century, the dolls became a part of the tourist trade and their purpose shifted from children's toy to a commodity.
Taboos
Dating before 1918, Seminole and Miccosukee men carved dolls out of wood and clothed them in traditional Seminole and Miccosukee outfits to sell to tourists. It was taboo, however, to carve realistic dolls that resembled a specific person. The Seminole and Miccosukee believed that a realistic doll would bring harm to the person it looked like, as well as to the person who made it. The palmetto fiber dolls that you see today are not exact images of Seminole and Miccosukee people, but altered impressions of features important to the tribes, such as hairstyle and clothing.
How to Tell the Gender of Palmetto Dolls
Determining gender of a palmetto doll can be challenging to the casual viewer. Female and male palmetto dolls are designed differently, but both are made with palmetto fibers. The bodies are usually hand-stitched with cotton thread and stuffed with either cotton or palmetto fiber. Female dolls consist of a circular head and cone-shaped body and they are often made with cardboard bases that support their standing up.  Modern female dolls do not have limbs, but a few rare older dolls have wooden or palmetto arms. Male dolls are made with a round head and a square body that has attached limbs. Due to their complexity, male palmetto dolls are rarer and more expensive.
How are Palmetto Dolls Made?
Elder Seminole and Miccosukee women hand craft the dolls from palmetto fiber found in the wild. This process takes a long time and requires a very specific type of fiber. Figure 2 is of a doll making kit, which shows the different stages of the doll making process. One palmetto tree can supply fiber for up to five dolls, depending on the size of doll. Dolls are assembled in quantities and once their bodies are created they are either sold to other women to be dressed or the doll maker herself may dress them.  For more information about the doll making process click here for an interview with Seminole doll maker Mary B. Billie.
Early Dolls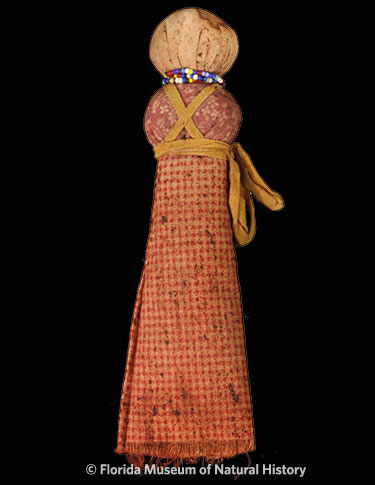 Cloth Dolls
Early cloth dolls were documented between 1882 and 1900. These dolls were made for children by using wrapped cloth, which was tied with string or leather cord. They are faceless dolls that have patterned or plain fabrics. These dolls have no capes, unlike later Seminole and Miccosukee dolls.
Wooden Dolls
In the early 1900s female dolls were being produced out of wood. The doll's wooden body would have been carved by men and dressed in cotton clothes, which were sewn by women (Figure 4). These dolls are carved from one piece of cypress or other soft wood and have arms that are nailed to their torsos. The facial features and hair of the dolls are carved and painted. Between 1920 and 1940 male wooden dolls began to be produced the same way (Figure 5). Later in the 1930s to 1940s dolls were made entirely out of wood (Figure 6); they were carved and painted by men only. Neither type of wooden doll was made in mass quantities and they are very rare.
Palmetto Dolls and Pairs
First made in 1918, palmetto dolls are the most abundant and popular of the dolls. Doll makers choose palmetto fiber because the color resembles the Seminole and Miccosukee's skin tones better then the white wood that was being used. Female palmetto dolls (Figure 7) have only one basic dress of a cape and skirt, but male dolls have two different styles. Most male dolls wear a long shirt (Figure 8), but some wear pants and shirts. These dolls are referred to as the Rancher style (Figure 9). Pair dolls (Figure 10) came around in the 1930s to 1940s. Deaconess Bedell wanted the Seminole and Miccosukee to produce male and female pair dolls for the tourist trade. She believed that if dolls were in pairs they would sell better.
Pin Dolls
These small female dolls are made to be pinned to clothing (Figure 11) or to larger dolls as a way to represent children (Figure 12).  It is not known when these dolls were first made, but the earliest recorded pin doll is from 1941. Sometime after the 1970s, pin dolls were created in a papoose  (Figure 13). This is unusual because the Seminole and Miccosukee did not place their children in such carriers. Male pin dolls are very rare.
Dolls of Unknown Origin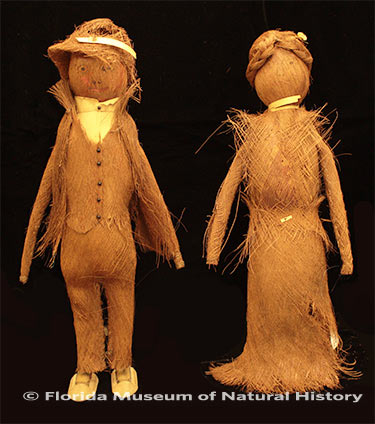 All-Palmetto Dolls
During the 1930s and 1940s, dolls that were all-palmetto fiber started to appear (Figure 15). These dolls are possibly not made by the Seminole or Miccosukee, but by non-Native Americans for the tourist trade and are seen as Folk Art dolls. After the 1950s the all-palmetto dolls are known to be made by the Seminole. The bodies of the dolls are hand stitched and the faces are painted.
Skookum Dolls
Skookum dolls started around the 1920s-1930s. These dolls were not made by the Seminole or Miccosukee, but designed by Mary McAboy. These dolls were factory made and built out of plastic (Figure 16). Skookum Dolls were dressed in different tribal outfits to represent various tribes. These dolls were created to be souvenirs and not playthings.  Another kind of Skookum doll (Figure 17) has a head made out of a composition material and a cloth body. The maker of these dolls in unknown and they are very rare.
Commercial Rag Dolls 
Commercial Seminole and Miccosukee Rag Dolls (Figure 18) were created around the 1930s. These dolls were created to be more durable for children to play with and are made entirely out of fabric.  These dolls are dressed in traditional clothing and most of them have side-looking glances. These dolls are very rare. After the 1950s Miccosukee rag dolls were made with breasts underneath their capes (Figure 19).
Combined Crafts
Basket Head Dolls and Pin Cushion Dolls (Figures 20 and 21) Doll-head baskets are made of sweet grass or pine needles (Figure 20). Most baskets that the Seminole and Miccosukee made were intended for everyday use. However, the Seminole and Miccosukee started to make beautiful baskets for the tourist market. Deaconess Harriet Bedell is credited for the idea to have the doll heads on the baskets lids. Some of these baskets had palmetto doll heads attached to the lid to create an item unique to the Seminole/Miccosukee. They also created doll pincushions and these are highly decorated with beads.
Doll Necklace (Figure 22) Having a doll as part of a necklace is a newer concept to Seminole and Miccosukee dolls. Figure 22 is of a palmetto doll that is connected to a strand of beads to create a necklace.
Unusual Dolls
Paper Mache Doll (Figure 24) This doll was created with paper mache and fabric. The doll is unique because it is associated with a letter that reads "Miss Hunt's 4th Grade, Military trade school." The doll's head and hair are made from paper mache. There are brown felted hands underneath the doll's cape. The body is only a stick that attaches to a stand. The clothing of the doll is made out of fabric that has been glued together.
Square Headed Doll (Figure 25) This is a doll that was possibly created between the 1920s to the early 1940s. The doll has a distinctive look with a square shaped head and square sewn nose, unlike the majority of palmetto dolls. Square headed dolls are rare.
Unique Male doll (Figure 26) This is a male doll that has a distinctly different look from most dolls. The doll is wearing a cloth cap and necktie that is pinned to the doll, instead of sewn or tied. Finally, the feet are designed differently than most male dolls.
Male doll with leather leggings (Figure 27) Leather leggings are not commonly seen on male dolls. This doll is also larger then most male dolls, which is very rare.
Doll made from felt (Figure 28) Today more dolls are being made with felt instead of palmetto fiber. The reason for this is because palmetto fiber is becoming harder to find.