Cane Basket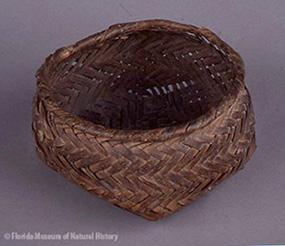 Examples of Seminole cane baskets are rare in collections. The Florida Museum is one of the few museums that permanently displays an historic cane basket (Figure 1). The basket is estimated to have been made around the early 1830s, and the techniques for creating it reflect those used by Creek and Choctaw Indians.
Oral accounts reveal that this cane basket was acquired through trade with Seminoles living near Wacahoota, Florida during the 1830s. Donated to the Florida Museum by Mims Mattair, documents impart how Mattair inherited the basket from his grandmother, Fanny Tyner, and that the exchange for the basket was likely for milk. Information such as this broadens our understanding of 19th century contact and exchange along the Florida frontier.
Maroon Basket
Museums occasionally have incomplete information on objects. One basket in the collection is believed to be made by a Seminole Maroon from Andros Island, Bahamas (Figure 2). John M. Goggin conducted fieldwork in the Bahamas and it is possible that he collected this basket.
Around 1810 to 1820, a group of about 150 to 200 Black Seminoles fleeing from the slave catchers came to Cape Florida. Upon their arrival, they heard from an English captain that the land of freedom was to the east, and so they chose to go there under the leadership of Scipio Bowleg (an "Indian doctor"). Today, some Bahamian descendants in the Red Bay area refer to themselves as "Black Seminoles."  Red Bays baskets have gained a reputation for their distinctive and sturdy construction and uniquely attractive styles, which can be singled out because they are unlike any other baskets crafted in the Bahamas.
Dolls and Stitchwork
Seminole and Miccosukee sweetgrass baskets occasionally incorporate additional elements, such as a doll's head lid or striking stitchwork patterns. Baskets with a doll lid are reminiscent of palmetto dolls and include additional materials such as beads, cardboard, and fabric (Figure 4). According to Seminole custom, the lid of a basket can only be closed by a woman who has passed through menopause and may no longer have children.
Basket stichwork is comparable to fingerprints, and the work of different basket makers can be recognized by the way stiches have been executed. In 2012, Keith and Sara Reeves donated a unique coiled basket (Figure 5). Analysis of this basket by Austin Bell, a former UF graduate student, determined that the basket is likely the work of Seminole artist Paul Billie. The telltale feature that led Bell to this proposition is the basket's stitchwork, which features triangular step designs and its unusual combination of sweetgrass and pine needles.
John M. Goggin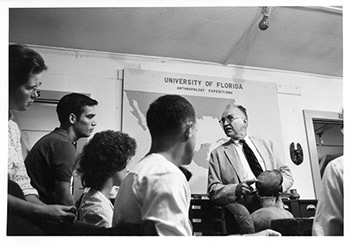 Museum collections often include of a set of objects acquired through a single donor or collector. The Florida Museum's Seminole and Miccosukee basket collection is an example of this type of contribution.
In 1955, the Florida Museum purchased more than 150 Seminole and Miccosukee objects from John M. Goggin. Twenty-three of these objects are baskets. An anthropologist by trade, Goggin was a proponent for building type collections and he encouraged the use of museum objects in research and education (Figure 6). His relationship with the Seminole and Miccosukee began in boyhood and continued throughout his life, collecting material from both tribes every year but five between 1938 and 1953. The Seminole and Miccosukee basket collection continues to grow as donors such as Goggin contribute new objects for research and exhibition.