Globally acclaimed artist and beloved Florida Museum of Natural History collaborator Naziha Mestaoui passed away on April 29. She was 44 years old.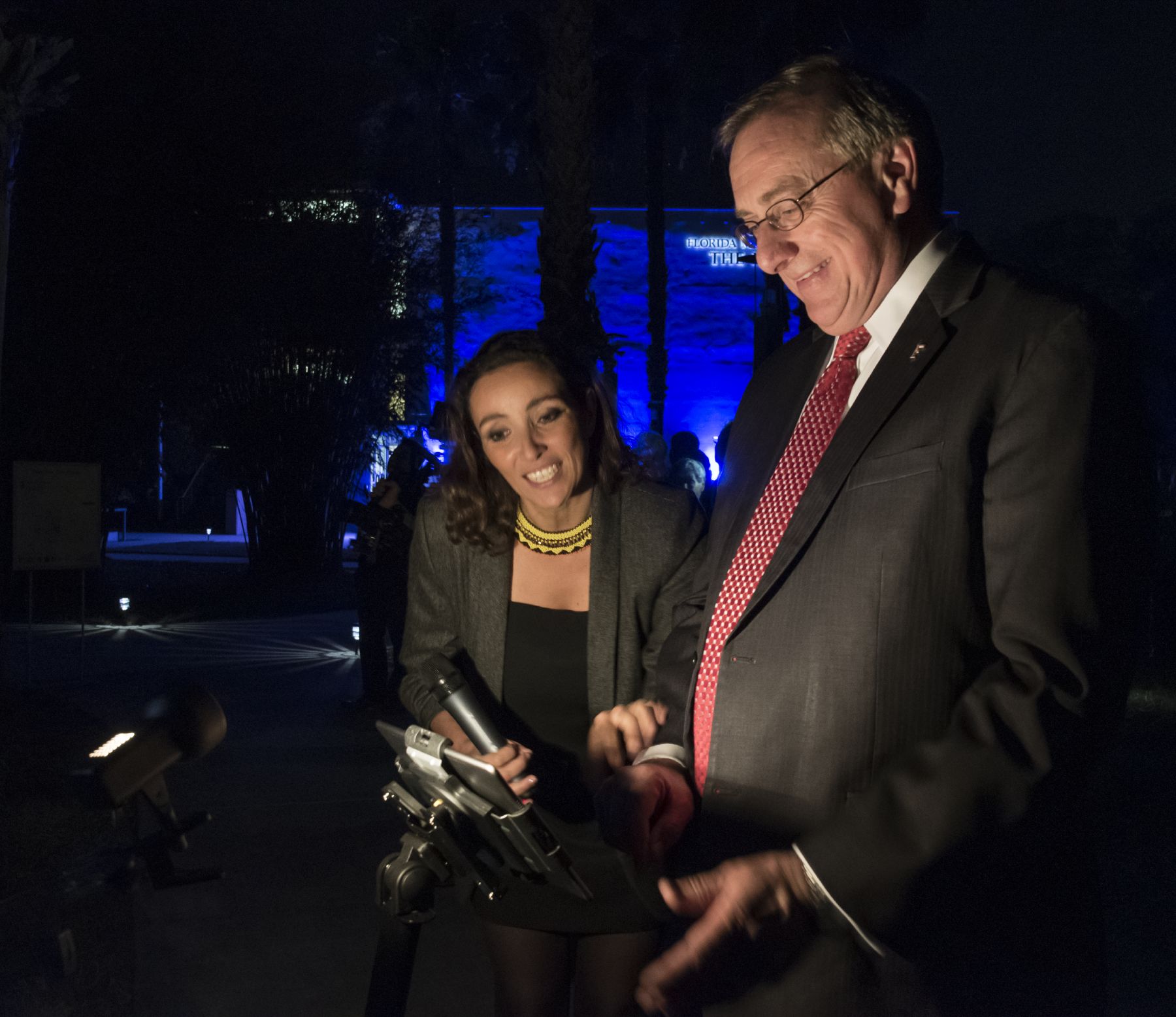 Mestaoui's interactive, grand-scale outdoor projections highlighted the connections between all living things, and the Paris-based artist was perhaps best known for her light installation on the Eiffel Tower at the 2015 United Nations Climate Change Conference. Mestaoui created the "One Tree, One Planet" light projection with Florida Museum scientists Douglas Soltis, Pamela Soltis and Robert Guralnick to represent the relationships between all life.
"She always had this larger-than-life persona – she was big-spirited, and her spirit was always up front," said Guralnick, curator of biodiversity informatics. "Sometimes you think of art and science working at odds with each other rather than in support of one another, but it was never her perspective that art was one modality and science was another. Like everything else in her view about connectivity, those were not different viewpoints to her."
Mestaoui's partnership with the Florida Museum began in 2016. Plant scientists Pamela and Douglas Soltis, Florida Museum curators and University of Florida distinguished professors, reached out to Mestaoui with ideas about using art to share the Tree of Life – the map of the shared evolutionary history between all Earth's organisms – with a public audience. Although she was in the Amazon working with indigenous communities to purchase and protect tribal land in the region, Mestaoui responded immediately, Douglas Soltis said.
"That's how she was," he said. "She was not just an artist – she interacted with scientists and was an advocate for biodiversity. She walked the walk, she didn't just talk the talk. She took her art and science to make action."
Mestaoui's two-story outdoor video projection featured a moving network of light strands representing Earth's interconnected biodiversity and compared the heart rates of viewers to those of other organisms while superimposing their images over the human branch of the Tree of Life.
The work debuted at the Florida Museum during the November 2017 "One Tree, One Planet" events. In 2018, the UF College of the Arts commissioned Mestaoui to create a "Live Oak Tree of Life" projection for Gainesville's Innovation Square. Mestaoui and the "One Tree, One Planet" team also revealed an indoor projection and mobile app in 2019.
"Naziha's work is beautiful and inspiring," Pamela Soltis said. "We are not apart from nature, but part of it. I think the ultimate beauty of her art is her ability to make connections that we might not have realized were there."
Mestaoui was especially interested in studying the intersection of the digital world and the immaterial, spiritual world of certain indigenous cultures. Making this connection allowed her to integrate differing cultural viewpoints into her installations, Douglas Soltis said, and she worked with ambassadors around the world to raise awareness for the reforestation of tribal lands and the preservation of indigenous cultures. Her work closely aligned with the Florida Museum's mission to inspire people to care about all life on Earth, Pamela Soltis added.
"The core word that I think is absolutely central is 'inspire,'" Guralnick said. "Naziha's work inspired. Although its size made an impact, I was most inspired by its ability to capture the grandeur of life and its connections – the story was really about how she folded in the very idea of creativity and rhythm into every moment of the projections."
Pamela Soltis and Guralnick said the interactive component of Mestaoui's work, which allowed audiences to add themselves to the Tree of Life projections, offered viewers a deeper appreciation for the tree's complexity. Her projections also included a score generated by translating DNA sequences into musical notes.
"Participants who are not scientists essentially absorb this information without even trying," Pamela Soltis said. "If this new appreciation can be applied in a participant's life, then our audiences will achieve a deeper understanding of our relationship to nature than they likely held before."
Douglas Soltis said the "One Tree, One Planet" team will continue its projects, now in honor of Mestaoui. The team, which also includes Matthew Gitzendanner, a scientist in the department of biology, hopes to develop a planetarium version of the indoor projection, a move that will require an adaptation of Mestaoui's projection for a curved surface. Pamela Soltis added that the team's plans include showings in Berlin and London, with previous events in Atlanta, New York and Green Bay.​​
"I've heard a lot of people – especially as we grapple with this pandemic – talk about how we need to effectively remove ourselves from the natural world, and I think that Naziha's work continues to remind us that nature is a key part of the larger fabric of life that we're all connected to," Guralnick said.
Mestaoui also collaborated with UF College of the Arts Dean and Professor Emerita Lucinda Lavelli and local artist Margaret Tolbert. Mestaoui was scheduled to receive an honorary degree of fine arts from the College of the Arts at UF's spring commencement this year.
"I already miss Naziha terribly," Pamela Soltis said. "She was such an inspiration – a brilliant mind, a talented artist, a dedicated citizen of the world who put her beliefs into action and a friend."
---
Sources: Robert Guralnick, rguralnick@flmnh.ufl.edu;
Douglas Soltis, dsoltis@ufl.edu;
Pamela Soltis, psoltis@flmnh.ufl.edu