GAINESVILLE, Fla. — Florida Museum of Natural History researchers are planning to launch a new app that will allow users to interact with a projection of the Tree of Life designed by internationally renowned artist Naziha Mestaoui.
The museum will host a "One Tree, One Planet" event in Powell Hall on the University of Florida campus April 8 from 6 to 8 p.m. to debut the app and show the interactive projection indoors. The museum premiered the "One Tree, One Planet" two-story projection in 2017 on an exterior wall of the Samuel P. Harn Museum of Art.
"This time, the show isn't over when you leave," said Douglas Soltis, a distinguished professor and curator at the Florida Museum of Natural History and in the UF department of biology. "It's just beginning."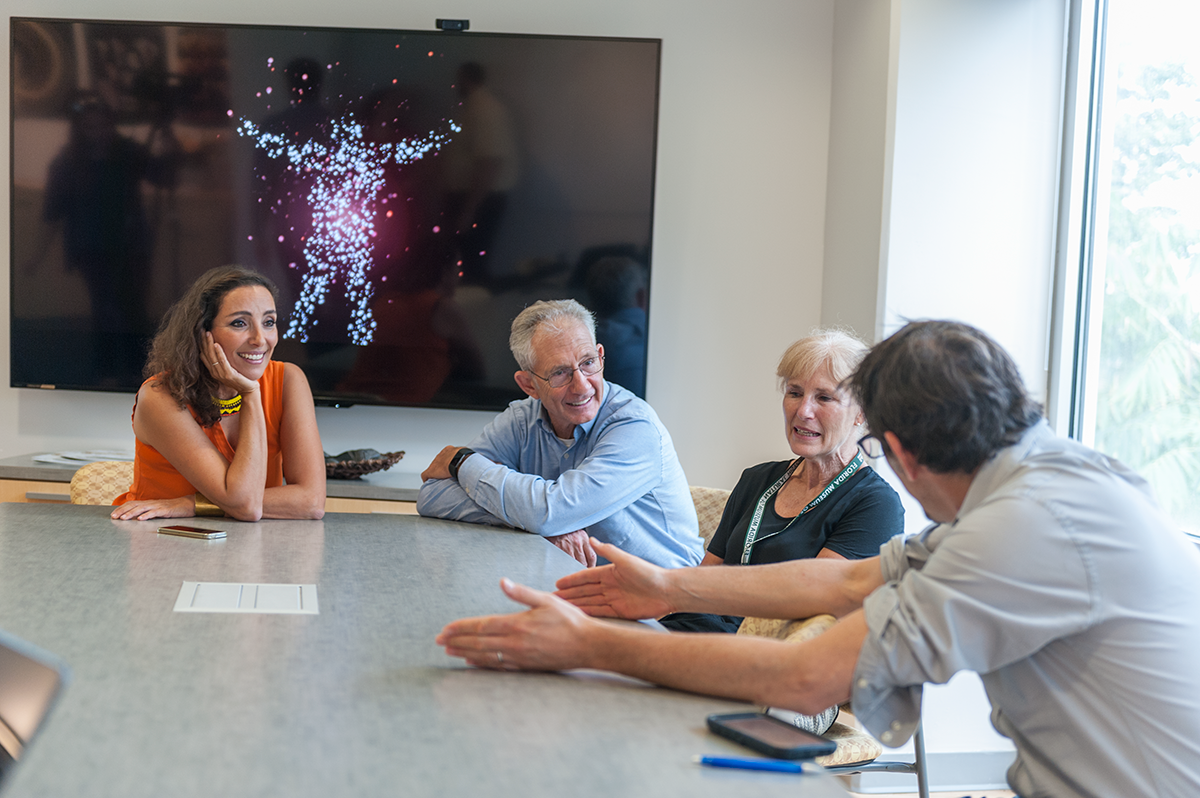 The new app, supported by a gift from the 1923 Fund to the Florida Museum, will show attendees' images simultaneously alongside others at the event on the Tree of Life projection. After the event, the app will offer users challenges to emphasize how small changes they make can add up to significant, positive outcomes for the future of our planet. The app aims to give participants a way to refer back to the projection's message of interconnectedness and create a network of users supporting sustainable actions.
"What I think was missing on the first run of this was every individual person could see his or her face on the Tree of Life, and hear the heartbeat of everyone else, but you couldn't show how we're all part of this," said Robert Guralnick, Florida Museum associate curator of biodiversity informatics. "People can be inspired, but are they engaged and connected? We want viewers to be able to go from seeing that this story is about all of us to thinking about what they can do together to help sustain the planet."
The app will feature a variety of challenges, from choosing sustainable seafood options to planting native wildflowers. Users will be able to "level up" as they complete challenges and see how their accomplishments compare to others using the app. This feature aims to create a supportive network for users to help one another reach their goals.
"In the same way that small things can collectively have large outcomes that aren't good for us and our planet in the long run, small actions that are positive can amplify and have really important good impacts as well," Guralnick said. "We're not telling people, 'Stop doing things that you do.' We're trying to say, 'Take small steps that will add up a lot over your day, week, month and year.'"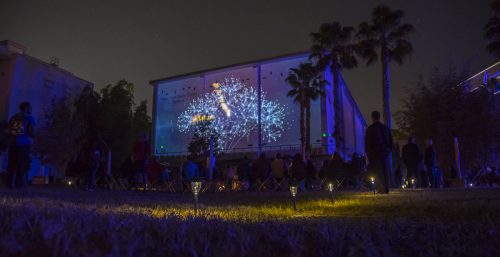 The artist, Mestaoui, is best-known for her "One Heart, One Tree" projection that first appeared on the Eiffel Tower during the United Nations Climate Conference in 2015. Her recent large-scale work with UF collaborators, "One Tree, One Planet," is designed to illuminate the interconnectedness of all species on the planet through sound and visuals. Douglas Soltis said he was inspired to use art to educate viewers about the Tree of Life while in Mexico with Pamela Soltis, also a distinguished professor and curator at the Florida Museum and director of the UF Biodiversity Institute.
"We were visiting Campeche, and there was an amazing outdoor projection on a Spanish colonial building about the history of Campeche and the region. Hundreds of people were watching, and I turned to Pam and said, 'This is how we tell the story of the Tree of Life,'" Douglas Soltis said. "As scientists, we often bombard people with data. After a while, the numbers just pile up. It was like, 'There's got to be a better way to do this – maybe we can reach people's hearts through art.'"
The Soltises contacted Mestaoui and began building a core team to work on the project, including Guralnick.
"That green film you see from space on the planet, that's our life support system," Guralnick said. "When we talk about why the Tree of Life matters to us, it's really about understanding that we're part of this big process that keeps this green planet green."
The "One Tree, One Planet" projection and app will soon make their way to other cities in the U.S., with the next event scheduled at the Atlanta Botanical Garden on April 11-12.
"We're currently planning shows for the 50th anniversary of Earth Day in 2020," Pamela Soltis said. "We're really excited about the chance to share Naziha's beautiful art with larger audiences that will be able to use the app to connect to one another and the Tree of Life."
"Everybody doesn't have to do everything – not every challenge, but if everybody does a little bit, it makes a difference," Douglas Soltis said.
For more information about the app launch, visit www.floridamuseum.ufl.edu/event/otop.
For more information about the "One Tree, One Planet" project, visit www.floridamuseum.ufl.edu/onetree.
-30-
Writer: Halle Marchese, swriterintern@flmnh.ufl.edu, 352-294-0452
Sources: Douglas Soltis, dsoltis@botany.ufl.edu, 352-273-1963; Robert Guralnick, rguralnick@flmnh.ufl.edu, 352-273-1980; Pamela Soltis, psoltis@flmnh.ufl.edu, 352-273-1964
Media contact: Paul Ramey, pramey@flmnh.ufl.edu, 352-273-2054