Lawrence Page, Florida Museum of Natural History curator of fishes, has received a Fulbright U.S. Scholar Program award to document Thailand's rich diversity of freshwater fish.
The Fulbright Program was established in 1946 under legislation introduced by former Arkansas Sen. J. William Fulbright to promote education, culture and science. The program is funded by the U.S. Department of State's Bureau of Educational and Cultural Affairs. "Fulbrighters" are selected on the basis of academic and professional achievement, as well as their record of service and demonstrated leadership in their respective fields.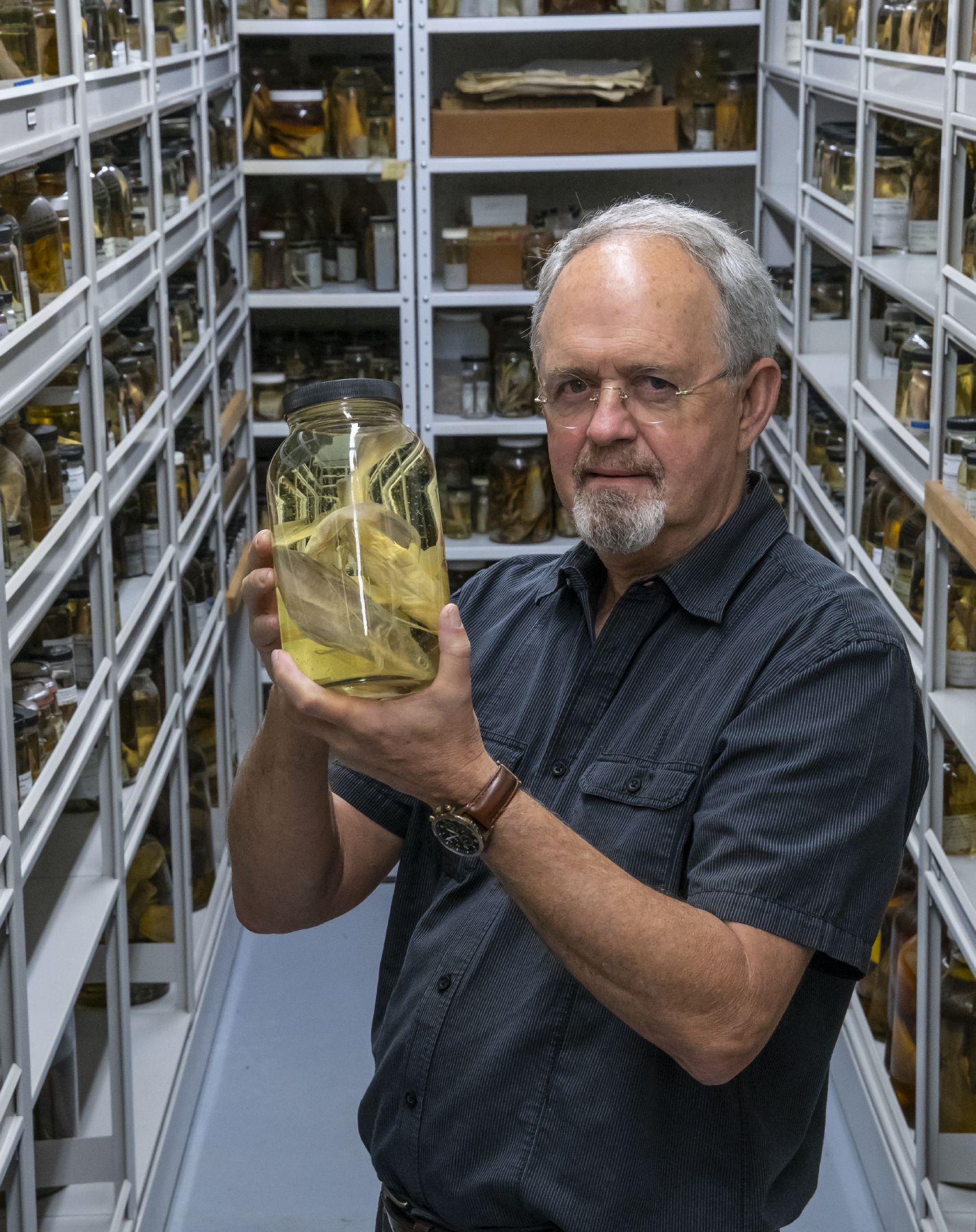 Through close collaboration with Thai scientists, Page will work in Thailand from August 2020 to July 2021 in an effort to document fish diversity in the Mae Klong river basin, including describing species currently unknown to science. A hotspot for freshwater fish diversity, this region can offer scientists important insights into how to protect some of Thailand's most threatened – and understudied – freshwater ecosystems.
Page's research has illuminated the evolutionary relationships of fish species and helped quantify Thailand's fish diversity, a key step to conserving it. Under Page's direction, the Florida Museum has developed the largest collection of Thai fishes and mussels in the U.S.
"Larry Page is a world-class scholar who continues to make key contributions to our understanding of freshwater fish diversity," said Florida Museum Director Douglas Jones. "This award is well deserved, and I look forward to the valuable advancements in ichthyology it will produce."
Although Thailand is about 20 times smaller than the U.S., it has nearly twice as many species of freshwater fish. The Mae Klong basin isn't the largest freshwater basin in Thailand, but is an ideal study site because it has high biological diversity without the ecological pressures that non-native species introductions and landscape modifications like dams have brought to the region's larger basins, Page said.
Page and his team have been documenting Thailand's freshwater fishes since 2007, focusing on the Mae Klong basin over the past five years. Still, as much as 20% of Thailand's freshwater fishes might still be unknown to science, Page said.
"Southeast Asia is probably second only to the Amazon in terms of fish diversity," said Page, who is also a University of Florida affiliate professor and an American Association for the Advancement of Science fellow. "The fishes in Thailand aren't well known, but they're extremely interesting. The Mae Klong basin drains some of the area's most pristine regions, which is why we've been going back every year."
These basins support some of Thailand's economic staples, including the fishing and tourism industries. But, Page said, their biodiversity can't be protected until scientists have a robust understanding of the fish living there.
Page says one problem he and his team will address is the lack of genetic information representing the Mae Klong's huge diversity. This has led to misidentifications of fish that were actually undescribed species – 15 of which he and his team have described.
DNA sequencing can play a crucial role in providing accurate species descriptions and identification keys. Fin clips provide tissue samples for DNA extraction, and specimens will be photographed in the field before being preserved and deposited in the Florida Museum and Thailand's fish collections. New genetic information can also be digitally distributed to scientists around the world through open-access databases, including iDigBio.
Page and his team also plan to publish a book that describes all the fish species in the Mae Klong basin with photographs of live specimens and distribution maps. The book will be published in English and in Thai to highlight the collaborative effort Page is helping develop between American and Thai institutions. His primary collaborator will be Sampan Tongnunui, an assistant professor in conservation biology at Mahidol University.
Page said the project will also include American and Thai graduate and undergraduate students, who will assist in the collection and analysis of data analysis and in publishing results.
"My scientific colleagues in Thailand are easy to work with – friendly and open to collaboration," Page said. "The Fulbright can help us enhance this growing community of practice between the University of Florida and universities in Southeast Asia."
---
Learn about an odd-looking fish species Page and his team discovered in the Mae Klong basin.
---
Source: Lawrence Page, lpage@flmnh.ufl.edu