The Florida Museum's Paleobotanical Collection includes approximately 250,000 specimens. This is a conservative estimate that does not take into account the fact that an individual hand sample may contain more than one fossil of interest.
In addition, the facility houses the John W. Hall paleobotanical collection (approximately 20,000 specimens) transferred from the University of Minnesota.
Search the Collection Database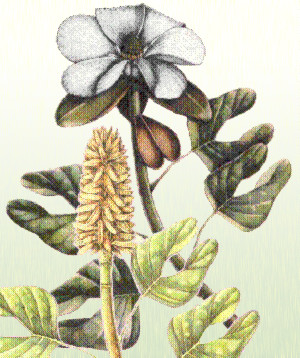 The online collection database contains more than 70,000 digitized records of the collection.
The collection is international in scope, ranging from the Proterozoic to the Pleistocene, and including collections from more than 50 countries. Particular strengths of the collection are: Cretaceous of the US western interior, Cretaceous and Eocene of southeastern North America, Eocene and Oligocene of the Pacific northwest, and Pennsylvanian of Indiana and Illinois.
Systematically the greatest strength of the collection is in Cretaceous-Tertiary angiosperms, which are represented by large numbers of well-preserved fruits and flowers as well as leaves and wood. A majority of publications generated by the collection have dealt with angiosperm systematics, but publications also have been generated on algae, fungi, lycopods, ferns, seed ferns, conifers, and insect mines and have been used to address questions of phylogeny, paleogeography, and paleoclimate.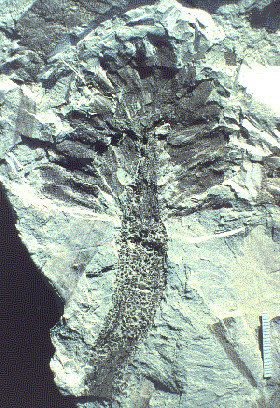 The type collection includes all Florida Museum paleobotanical specimens that have been cited in published literature, extending from the 1890s to the present. More than 350 publications are known to have cited specimens that now reside in the Florida Museum's paleobotanical collection (a list of these publications is available). There are currently more than 5,500 specimens, 1,500 thin section, cuticle, or pollen/spore slides and SEM stubs, 6,595 negatives and polaroid prints of SEM images of fern spores housed in twelve cabinets. Organization is by year of publication and in the order of citation presented in the publications.
Modern reference collections for leaves (>6,200 specimens), fruits and seeds (>2,200 specimens), pollen (The DM & S Jarzen palynological collection with >6,824 slides), and wood (University of Florida Herbarium – FLAS,approximately 15,700 accessioned wood samples and 1,000 microscope slides) are also available for comparative studies.
In 2017, the Florida Museum of Natural History marked its 100th anniversary as the state's official natural history museum. As part of the centennial celebration, the Florida Museum created an extraordinary exhibit exploring the key role museum collections play in telling the story of life on Earth.
Rare, Beautiful & Fascinating: 100 Years @FloridaMuseum celebrated the Museum's rich history and featured objects that reveal stories about everything from human health to prehistoric life to invasive species. Each Museum collection was asked to contribute its most interesting items and share the stories that make them special.
Though the physical exhibit is closed, the companion website remains online, providing an opportunity to experience the Florida Museum's most treasured specimens.
Browse Paleobotany + Palynology Objects