The Florida Museum is unable to offer virtual field trips at this time.
All existing virtual field trip reservations will be honored and the Special Guest Scientist field trip options below are still available.
---
Special Guest Scientist Virtual Field Trips
FREE 4th grade virtual field trip with a guest scientist for Native Americans of Florida
Scientist: Cindy Bear, Co-Director, Florida Museum Randell Research Center
All programs are 10–11 a.m., ONLY available on: Nov. 12, Dec. 8, Feb. 11, March 4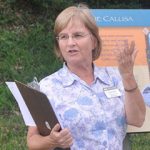 Join us in learning from guest scientist, Cindy Bear, who will share her knowledge and expertise about the powerful and successful Calusa that lived in southwest Florida. She will discuss how and where they lived, what happened to them and how we know so much about them through the science of archaeology.

Register for Nov. 12, 2020 Register for Dec. 8, 2020