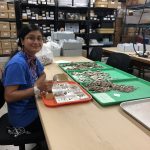 Alisa Luthra
Alisa Luthra is a volunteer and lab technician in the South Florida Archaeology and Ethnography collections. She recently graduated with her B.S. from the University of Florida, where she majored in Anthropology and double minored in Geological Sciences and Classical Studies. She intends to pursue her Master's and Doctorate at the University of Florida, with an interest in studying the zooarchaeology of Florida and the West Indies. Alisa has experience with photogrammetry and vertebrate faunal analysis, and is currently helping process invertebrate material from the Calusa Island site.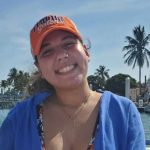 Regla Jorge Hernandez
My name is Regla Jorge Hernandez, I was born in Guantanamo, Cuba, and was raised in Miami.  I am a rising senior at the University of Florida in the College of Liberal Arts and Sciences as an Anthropology Major. I transferred to the University last year from the Miami Dade Honors College where I earned an award for Excellence in Anthropology. Within anthropology, my goal is to focus on culture and how it shapes our behaviors. I grew up in a melting pot of primarily Latin American culture and I would like to branch out and conduct research in the Polynesian islands.