The Florida Museum's Seminole and Miccosukee basket collection consists of 38 baskets made from a variety of materials. Materials include cane, palmetto, palm leaves, and sweetgrass. The collection covers 150 years of history, from the 1830s to the 1990s, and includes pack, envelope, berry, sieve, and coiled sweetgrass baskets.
Seminole and Miccosukee Basket Makers
Traditional Seminole and Miccosukee baskets are made of cane and palmetto and were used to collect and process food. The earliest examples are cane. Palmetto replaced cane after the ancestors of today's Seminole and Miccosukee tribes migrated south from Georgia and Alabama into Florida in the late 18th century.
Today most Seminole and Miccosukee baskets are made from sweetgrass. Sweetgrass baskets became popular in the 20th century as tourists began visiting South Florida for its warm climate and beaches. These baskets proved to be a favored and inexpensive souvenir item, and they remain popular today.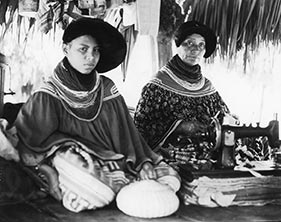 Why are these baskets important?
Basket making is one of the oldest of crafts, and basket makers continue to combine older techniques in innovative ways. The Seminole and Miccosukee basket collection at the Florida Museum captures a 150-year history of basket making tradition and transformation.