When the Gainesville Cultural Arts Coalition approached Florida Museum of Natural History school outreach coordinator Alberto Lopez in January to deliver a program at its science club for local children, he decided to do something different: a four-part series exploring the physics of nature called "Science Surprises."
Lopez organized these kinds of programs when he was the youth education manager at the Sciencenter in Ithaca, New York, but this was his first time organizing them in Gainesville.
"I wanted to offer something a little different by creating a series where instead of going just once and interacting with these kids the one time, you go and do a multiple-part interaction," said Lopez, who joined the Florida Museum in October 2018. "The advantage is I get to scaffold my lessons, build on previous visits, create a theme and hold the hands of these kids as we take a deeper dive into our topic."
The programs are designed for children in kindergarten through fifth grade and are usually an hour long. Lopez seeks to instill in children an interest in science and help them become better problem solvers by using creativity and communication.
"You're establishing a relationship with these kids that you usually don't get. You get to know them as people over an extended period of time and that's invaluable," Lopez said. "The kids are usually a bit sad on their last day and ask if I'll be coming back. Sometimes they even write me cards!"
Lopez begins each session with a demonstration of the concepts he's covering before giving the children hands-on activities with items they can take home. He says interactivity is a primary focus for his outreach events, with the opportunity for students to build something and take it with them being an added bonus.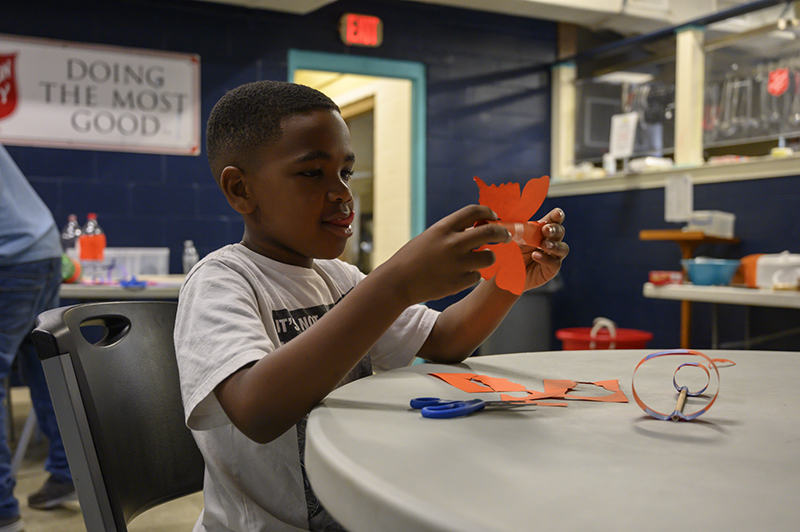 "When doing outreach with kids, I think it always needs to be hands-on and if it's something they can build and take home, even better," Lopez said.
He says building hoop gliders has been one such activity which gets kids excited while being simple and quick. Using a paper straw and two paper hoops, children build gliders that fly like paper planes but that can also be modified to become an engineering challenge as kids can add multiple hoops or wings to see what works best. Sometimes, Lopez will even give the children a budget and assign values to the straws and pieces of paper to teach them about math.
Physics in nature was the theme for the spring semester with the four sessions covering topics like flight, jumping, light and sound. Moving forward, he plans to expand the program to include themes like chemistry in nature, engineering in nature and citizen science.
Lopez has presented programs at the Cone Park branch of the Alachua County Library District, Caring and Sharing Learning School, Boys & Girls Club of Alachua County and George Washington Carver Science Club as part of the Cultural Arts Coalition. He also organized science programs for Kids Count, Community Housing Partners and the downtown branch of the Salvation Army.
Destiny Henderson, science club site coordinator for the Cultural Arts Coalition, says the program has received great feedback from the children, parents and staff and they would love to have Lopez return.
"I like that Mr. Lopez is so kind and even when the kids are talking over each other he lets things calm down and then gives each child his undivided attention," Henderson said. "It seems like something so small but when you're working with kids that means a lot."
Lopez doesn't shy away from the chaos and says the program is not meant to be like school. He wants the children to be enthusiastic and participate in the sessions, and has found they will settle down on their own because they want to do all the activities.
"I want excitement, that's what drives the atmosphere in the room," Lopez said. "If everyone's excited at the same time and laughing and shouting there's no problem at all because this is meant to be a treat for them."
In addition to "Science Surprises," Lopez has also been a part of the Butterfly Connection program, which provides complimentary tickets to the Florida Museum's "Butterfly Rainforest" and featured exhibits for cancer patients and their caregivers at UF Health. Museum staff also spend time with children at the hospital and bring activities like those in "Science Surprises" to them.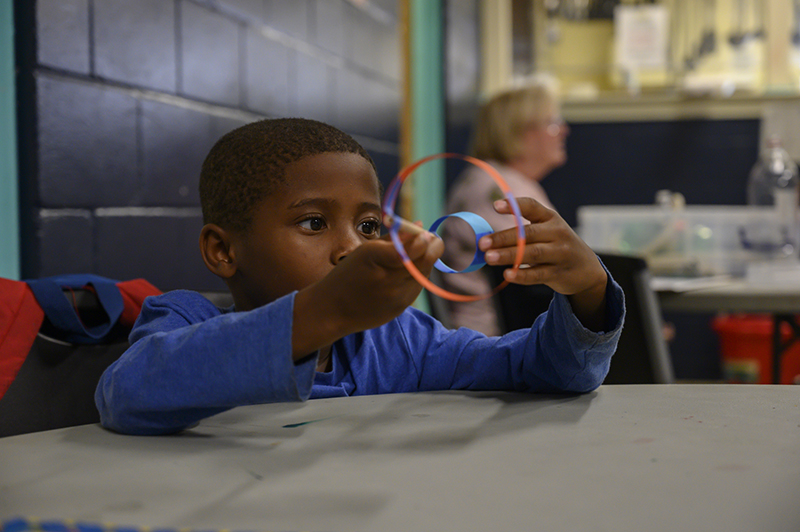 The program is two-pronged with a museum staff member setting up activities in a general playroom before hospital volunteers inform children and families and ask if they're interested in participating.
The staff member can also go room to room and bring activities to the kids. Lopez says the program allows him to personalize content for children and families based on their situation, though their ailments and the rooms themselves sometimes present challenges.
"You definitely get interruptions, like they may need treatment in the middle of the activity or something, but you roll with it and try to make this child's stay at the hospital as pleasant as it can be," Lopez said. "You can really see how helpful it is for the parents as well. They really appreciate it and participate much more than you normally see at other outreach events."
---
The UF Health program is held on the second Monday of the month.
The Butterfly Connection is a partnership between the Florida Museum, Climb for Cancer Foundation and UF Health Shands Arts in Medicine. The program began in 2005 with a gift from Ron and Dianne Farb and more than 3,400 tickets have been distributed.
For more information or to donate to the Butterfly Connection, visit www.floridamuseum.ufl.edu/support/butterfly-connection.
To organize a "Science Surprises" for your nonprofit organization, contact Lopez at alopez@floridamuseum.ufl.edu.
---
Sources: Alberto Lopez Torres, alopez@flmnh.ufl.edu, 352-294-6950;
Destiny Henderson, destinyhenderson11@gmail.com