After being in a COVID-19 chrysalis for over a year, the Florida Museum of Natural History's butterfly garden program is ready to emerge and create more habitats for pollinators.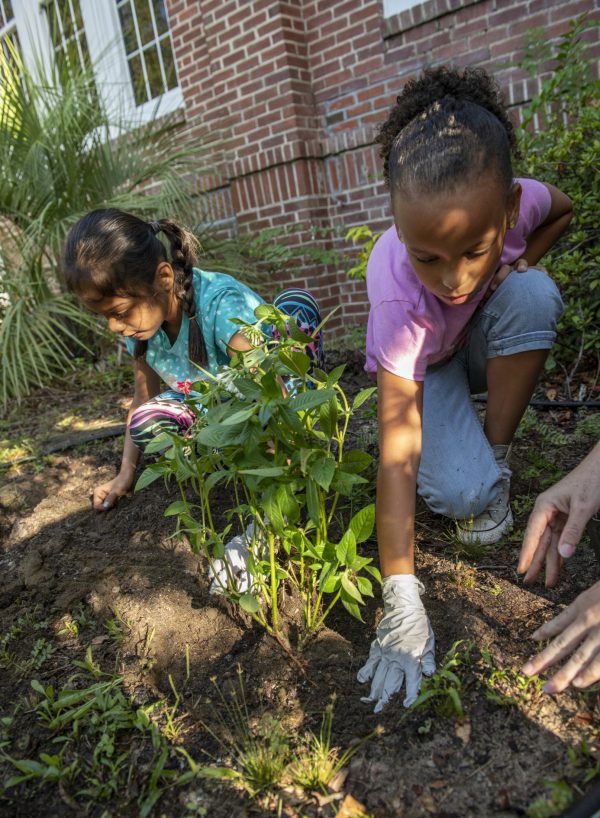 The program is resuming and growing to include community centers and after-school programs in addition to schools. As part of this initiative, Florida Museum educators and scientists visit local schools to plant butterfly gardens and conduct workshops on pollinators and other insects.
Alberto Lopez Torres, Florida Museum youth outreach coordinator, says this expansion was a natural progression of the program to educate more people in the area while reaching other parts of the community.
"We're still focusing on helping local youth, and this provides us with more opportunities to reach audiences we might not have in the past," Lopez said.
The first iteration of this relaunch will take place at the North Central Florida YMCA's Healthy Kids Day celebration on May 29 from 10 a.m. to 1 p.m. The event will also feature activities hosted by community organizations including the Alachua County Library District, Keep Alachua County Beautiful and the University of Florida's College of Dentistry.
As part of the celebration, Florida Museum staff will be planting 50 host and nectar plants, including milkweed, firebush, pentas and passion vines, and organizing hands-on activities relating to pollinators. Scientists from the museum's McGuire Center for Lepidoptera and Biodiversity will also bring live caterpillars and talk to attendees about life as a researcher.
"The garden doesn't just help make the place more beautiful, it's a living, learning tool that these organizations will have to educate people about pollinators' lifecycles, how they feed and so much more," Lopez said. "Especially right now when things are slowly crawling back to normal, it's great to have a program like this which we can do safely outdoors."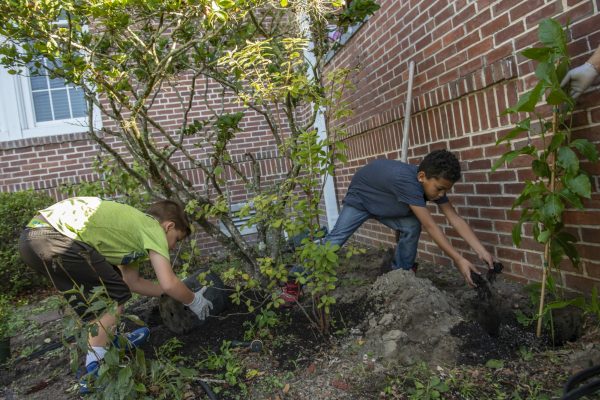 These gardens also serve an important ecological function. Nectar is an important food source that most insects need for nourishment. Planting pollinator gardens and wildflowers and letting native weeds grow instead of mowing them can help offset nectar scarcity in urban environments. By establishing gardens in community centers across the city, the program helps establish habitats and food for pollinators such as butterflies and bees across a large area while also offering an educational resource for the community.
"We've always wanted a garden here to serve as a source of responsibility, creativity, pride and wonder for our youth as well as the adult audiences we serve," said Tatiana Bastian, North Central Florida YMCA's program director. "So, when Alberto brought it up during the 2020 summer photography camps, it all just worked out organically, no pun intended."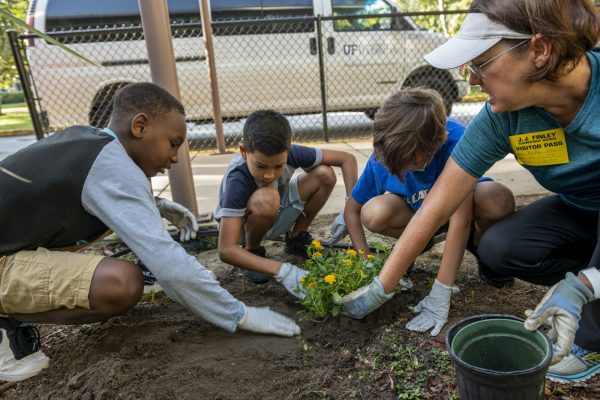 The program began in 2013 when Florida Museum lepidopterist Andrei Sourakov was approached to set up a pollinator garden for students at Duval Early Learning Academy. By the time the program had to be put on hold due to COVID-19, it had grown tremendously, with Florida Museum scientists, educators and volunteers holding 23 gardening workshops at local schools in 2019, reaching over 700 students and teachers.
In addition to providing an in-person teaching experience during installation, he says the maintenance and upkeep of the garden offers a constant learning tool, promoting "bioliteracy" – understanding and stewarding nature.
"This is the age when children can learn to either love or be afraid of nature, and it's important to teach them through these interactions that plants, animals and insects are not things to be afraid of and should be respected," Sourakov said. "If humans don't learn to appreciate nature, they obviously won't care if it gets destroyed and we can't survive without nature. That bioliteracy is one of the most important things we can teach."
Healthy Kids Day will take place mostly outside with sanitizing stations and social distancing being implemented. Masks will be required for all indoor activities.
For more information on the program, visit www.floridamuseum.ufl.edu/educators/outreach/butterfly-gardens.
---
To donate to the program, visit www.uff.ufl.edu/giving-opportunities/025099-museum-admissions-and-programs-assistance-fund.
---
Sources: Alberto Lopez Torres, alopez@floridamuseum.ufl.edu;
Andrei Sourakov, asourakov@floridamuseum.ufl.edu;
Tatiana Bastian, tbastian@ncfymca.org
Media Contact: Kaitlin Gardiner, kgardiner@floridamuseum.ufl.edu