With $800,000 from the National Science Foundation, Florida Museum of Natural History conservation biologist Scott Robinson is researching bird ranges in the Andes Mountains.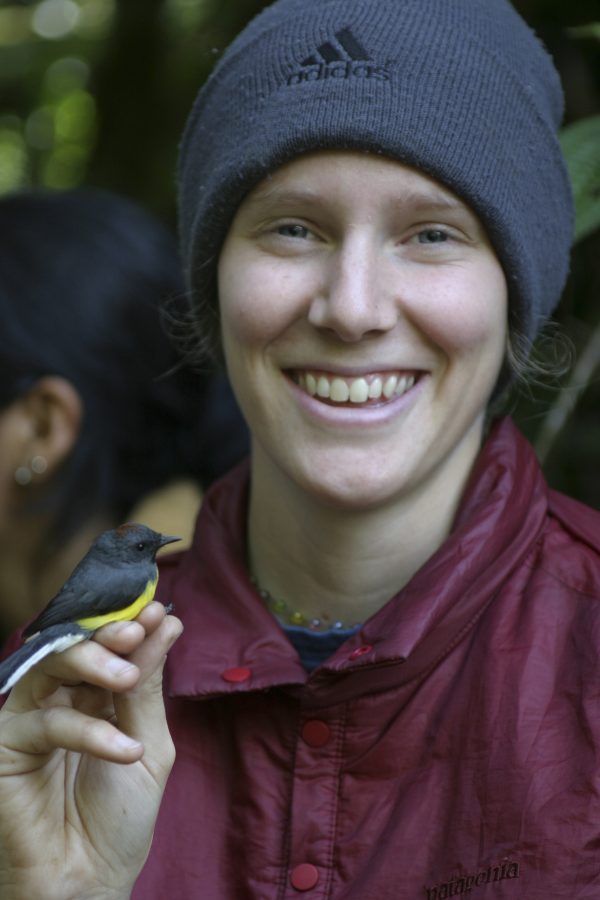 Robinson is leading a team of about 20 researchers measuring ideal temperatures for different species' survival, studying how successfully the birds nest and to what extent predators dictate their existence. With this data, scientists hope to understand which Neotropical bird species will be able to move upslope as temperatures increase with global warming.
"These are birds that are likely to be very vulnerable to climate change because they're very specialized to a narrow climate niche," said Robinson, Ordway Eminent Scholar at the Florida Museum. "We're trying to determine if they're simply living where they're optimally adapted, or if there are competitors replacing each other. No one's really tested that."
During the end of the dry season, from August through November, scientists and volunteers work along the anu Road in southeastern Peru, the location of earth's most diverse known bird community. The area is home to more than 1,000 species, and Robinson hopes to collect data for more than 150 of them.
"We're trying to work on a relatively undisturbed gradient – the land around this road is owned by conservation organizations, so it goes through intact forest," Robinson said. "Here's a chance to study the environmental needs of these species without direct human disturbance."
Researchers determine the birds' ideal temperature requirements with the FoxBox from Sable Systems, a portable, generator-run chamber that measures how much energy birds burn in different environments.
"These metabolic chambers regulate the airflow and temperature of birds at night when they're sleeping," Robinson said. "By slowly raising and lowering the temperature, we can measure the concentration of oxygen entering and elevating the chamber to see the amount of energy the bird is burning. You're looking for the thermo-neutral zone, where the bird doesn't have to expend any extra energy to maintain its body temperature."
The data will help researchers understand whether species will be able nest higher on mountain slopes as temperatures rise or be forced out because of predators.
"Some of these species can just move upslope – the problem is, there's something else up there already," Robinson said. "Some birds will just get pushed off the top, or get squeezed in the middle of the mountain. We're trying to figure out which species are in trouble and which can take care of themselves."
The three-year project, funded earlier this month, also involves conservation and education outreach to local communities, including presentations promoting ecotourism and environmental awareness, Robinson said.
"As scientists, we've come to realize somewhat belatedly that by ignoring outreach, we're cutting off our connection to people," Robinson said. "People are interested in the results of science, but when it comes to actually doing science, the United States isn't producing as many scientists as it used to, so I think we need to worry a lot about that. Any kind of sustained research and conservation in South America has to involve the people that live in those areas – they have to be a part of it and they have to want to do it."
Mark Chapell of the University of California, Riverside, is co-principal investigator for the project. Other collaborators include Florida Museum graduate student Gustavo Londono and Jill Jankowski, a postdoctoral research fellow at the University of British Columbia and Florida Museum research associate. Volunteer researchers selected from around the world include students from South American universities and the University of Florida.
"Finding the nests, catching the birds, measuring their oxygen rates – this is a very, very labor-intensive project," Robinson said. "But the great thing about birds is people love them, especially college-age people. We can get really skilled volunteers for this project, as long as we feed them and give them a place to stay, they will just be totally happy they're working in the Andes and having a grand-old time."
---
Learn more about the Ornithology Collection at the Florida Museum.