Several years ago a University of Florida librarian handed me a copy of a recently donated 1873 newspaper article taken from the New York Weekly Sun. Unsigned, the article included a wonderful account of a visit to Turtle Mound, an archaeological site in modern Volusia County, just south of New Smyrna Beach. The mound, said in the article to be "a day's ride from civilization," is one of the largest shell mounds in Florida. Its name comes from its shape, which, when viewed from the ocean, resembles a giant turtle.
Along with Turtle Mound, the newspaper article mentioned a number of other archaeological sites in east-central Florida. There also were some colorful individuals in the story, such as Old Cone, the alligator hunter, and there were several marvelous accounts of Florida's environment, all written only 15 years after the Third Seminole War. One thing that particularly drew my attention was the description of the destruction of archaeological sites and the wholesale attacks on the land, especially the fauna. Less than a decade after Robert E. Lee surrendered to U.S. Grant, Florida's natural history also was involved in a civil war, one being waged on it by its new residents.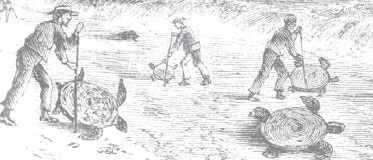 Eventually I discovered that the author of the article was New York City journalist Amos Jay Cummings, who also was a U.S. Congressman and a Congressional Medal of Honor winner. Squirreled away in the New York Public Library archives, I found more newspaper articles on Florida written by Cummings and selected 20 for reprinting and annotating. They appear in a new book published this month: Frolicking Bears, Wet Vultures, And Other Oddities: A New York City Journalist in Nineteenth-Century Florida (University Press of Florida).
A century after the naturalist William Bartram traveled the St. Johns River, Cummings covered some of the same territory. But where Bartram found a wilderness that was home to Seminole Indians, Cummings encountered a land being settled by a host of characters, many of whom were not gentle in their attempts to wrest a living from Florida's environment.
The articles Cummings sent back to his newspaper contain numerous details about Florida's plants and animals and its people. He wrote about marauding bears raiding turtle nests on the Atlantic beach and early attempts to develop the Florida citrus industry. His articles provide depictions of rednecks and racists, murderers and music-loving sea cows.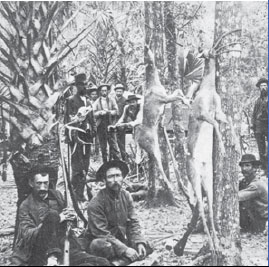 Cummings stripped the veneer off the paradise touted by land-speculators and tourist home operators eager for northern investors and visitors and found another Florida. The result is not always pretty, and Cummings pulled no punches. He was at times enthralled and other times repelled by what he saw.
Among Cummings' articles are portraits of people and practices that 21st century Americans will find amusing, odd and downright horrible. He wondered about "eminent bankers, ministers, judges, and others sportsmen" who shot hundreds of alligators simply to collect the teeth and he pondered over graves dug in the floors of earth-floored hovels (only to learn they were flea traps!). Along the way Cummings met one farmer who fed thousands of sea turtle eggs to his mules (the mules love them!) and another who bartered his daughter in exchange for another man's wife and 20 cows. An ardent fisherman, Cummings' account of his productive outings on Florida's waters can only leave us modern anglers shaking our heads in envy.
In 1874 Cummings was among only a handful of visitors to Florida who had made their way down state to stand on the shores of Lake Worth at sunset, a remote natural setting he described as "too glorious for reality." At one point he interviewed members of Edward Palmer and Frederick Ober's 1874 expedition to Lake Okeechobee, dispelling rumors that the lake harbored 4-pound spiders and islands with ruins of a lost civilization. Twenty years later he was back to witness first-hand the initial efforts to drain south Florida and to write about exotic plant species being imported into the state from abroad.
Cummings provides an extraordinary view of Florida, one written by an equally extraordinary individual. Previously unknown and unheralded, Amos Jay Cummings has now been given his due as a great American chronicler.
---
Florida Museum Archaeology Curator Jerald T. Milanich has authored more than 18 books on the Indians of the Southeastern United States. "Frolicking Bears, Wet Vultures, And Other Oddities: A New York City Journalist in Nineteenth- Century Florida" can be ordered from the University Press of Florida www.upf.com.