The University of Florida's Florida Museum of Natural History celebrated 100 years of inspiring people to care about life on Earth in 2017. To mark the closing of an era and the beginning of a new century, UF News profiled three Florida Museum women who are shaping the research institution's future and breaking the cycle of stereotypes and misconceptions in the world of science. With modern tools like social media and podcasts, they continue the work of past and current museum women, who have fought for equality in their fields and for the visibility of women in science.
Pt. 1: Michelle Barboza – The Fossil Hunter
Pt. 2: Adania Flemming – The Fish Whisperer
Pt. 3: Verity Mathis – The Mammal Keeper
Verity Mathis wore jeans with holes and a half-smile as she jumped out of the pickup truck and grabbed a shovel from the back. She'd need it to free a trapped pocket gopher.
She and fellow University of Florida researcher Sarah Duncan were spending the morning uncovering the gopher traps they set the night before at the Ordway-Swisher Biological Station, a UF conservation area near Gainesville — a typical Tuesday for a couple of mammal-obsessed scientists.
Mathis dug up her third trap of the day, tossing dirt into the air like it wasn't her first time. Her Ph.D. project at Louisiana State University was an investigation of the genetic differences between mammal populations and involved trapping gophers in Mexico. Before that, she trapped bannertail kangaroo rats in New Mexico. "Oh my gosh, kangaroo rats, they're so adorable. Google them," she laughed.
Cute, furry animals attracted Mathis to the study of mammals as a kid, but at her day job she can be found surrounded by a different kind of mammal: the dead and stuffed variety. She's the manager of the often misunderstood mammals collection at the Florida Museum, a collection that contains over 33,000 mammal specimens collected over the past century.
Video by Alyson Larson, UF Scale
Mathis' role at the museum allows her to combine collections management, research and fieldwork into one career. It's a job that takes her to locations ranging from caves in the Bahamas to Florida pine forests in search of the small, the rare, the strange — the animals that many people find insignificant.
"The way mammals so quickly evolved and moved into almost every available niche there is has always fascinated me," she said, pointing out the huge diversity of mammals given the relatively recent nature of their evolution.
"They can fly, swim…there's aquatic mammals, terrestrial mammals, arboreal mammals…"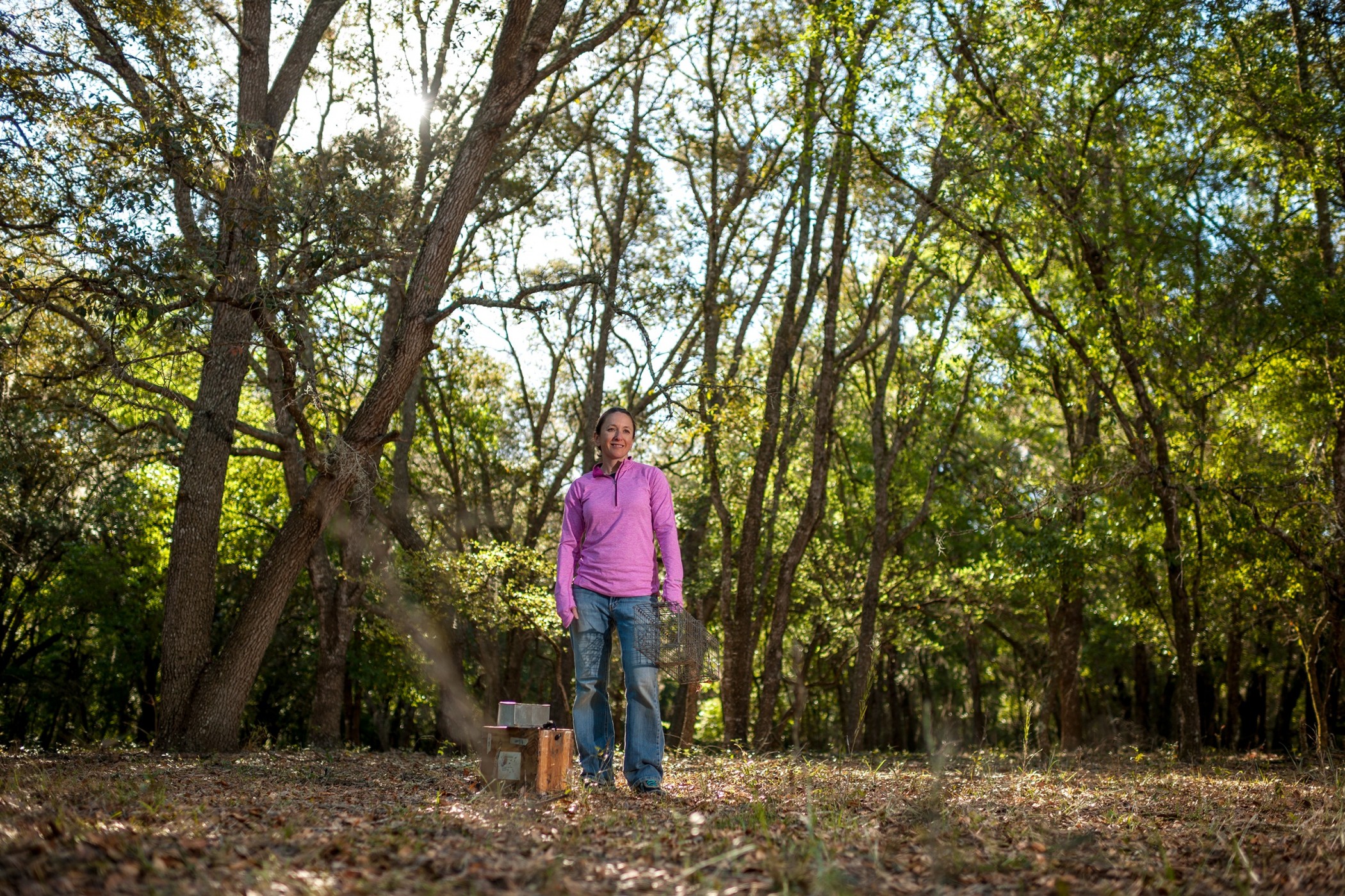 At the Ordway, Mathis pulled an adorable pocket gopher from a freshly uncovered trap. She held and petted it saying, "It's OK, baby," while Duncan took a little tissue from its tail, then rubbed disinfectant on the tiny wound before the gopher was released back into its burrow.
"He doesn't like us much right now, but the information we get from its DNA may help save his population," Mathis said.
She is one of a growing number of women in the field of mammalogy, and her passion runs deeper than research interests — Mathis wants to clear misconceptions about the collection she manages.
"People sometimes come into the collection and see cabinets of animal remains and they say, 'Why did you kill all of these animals?' Well, first of all, most of it is road kill or animals that died naturally," she said. "There's a lot more to it than shelves of bones and skins."
Many museum collections began as a way to describe and document species diversity. Without records showing when and where species occur and how they can vary across their range or between sexes, scientists can't say anything about their evolution, their distribution or their interactions with other species, Mathis said.
"Museum collections are the foundation that gives us a lot of our basic understanding of animals, helping us understand taxonomy, morphology and anatomy," she said.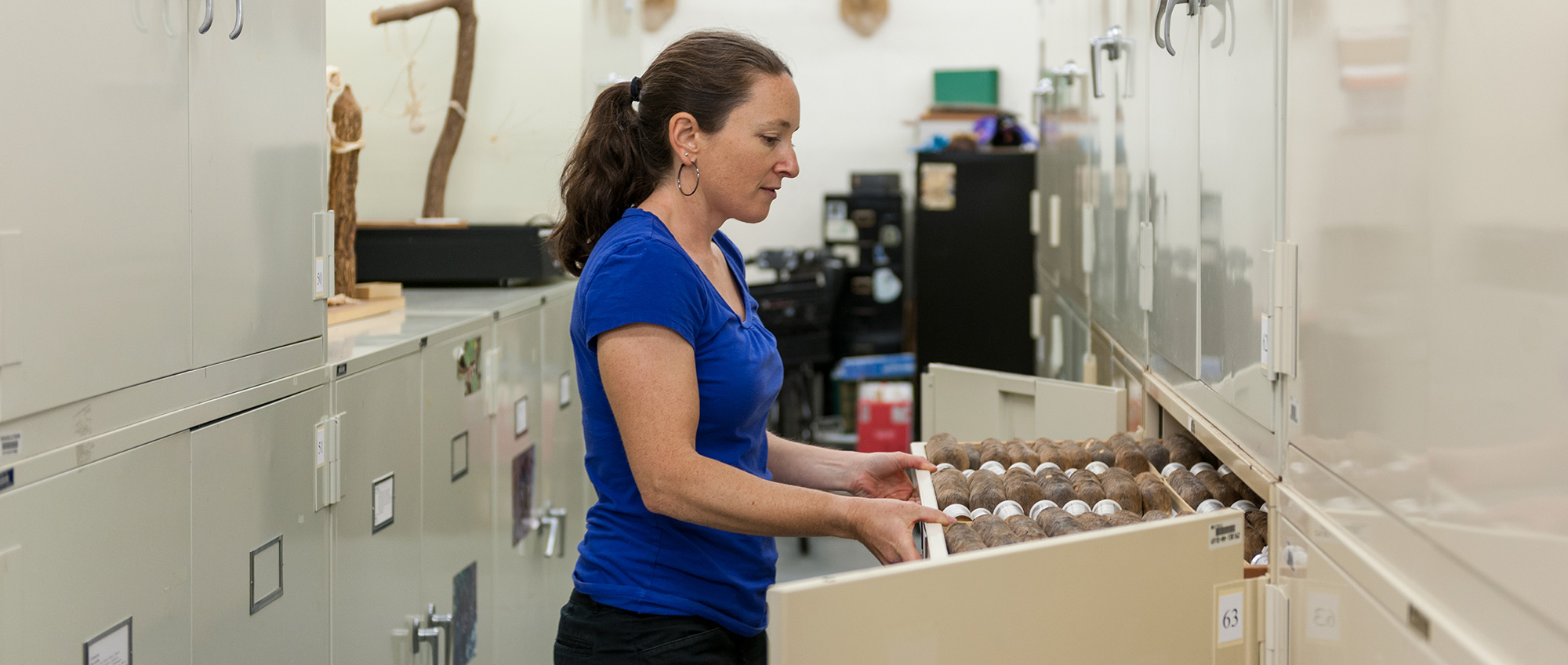 It's these cloudy misconceptions that she tries to clear with her outreach: participation in museum events, hosting visiting researchers and mentoring UF students.
Mammal collections have routinely resulted in the discovery of new species; however, while mammalogists did field collecting in the early days of museum collecting, broad-scale collecting rarely happens now and is reserved for answering new questions or exploring new areas.
At the Florida Museum, mammals live a second life as specimens for the advancement of science. They are used to study a variety of issues affecting mammals across the globe, such as rising seas, climate change and deforestation, Mathis said.
Her current research regularly takes her and the rest of the museum's mammalogy lab group to the Bahamas to study bats. They are trying to figure out how changes in sea level rise have affected populations of the Brazillian free-tailed bat to determine how populations of bats have been affected by climate change over time.
"We can try to extrapolate how changes in the past might affect these populations in the future," she said.
Her research and outreach are designed to give the public a better understanding and appreciation of mammal populations, especially misunderstood and unfamiliar animals.
Knowledge can lead to conservation and serve as motivation to get people interested in protecting biodiversity, Mathis said, especially in places like the Bahamas where most people do not have much information about their native species. She said it's important to get locals invested in what they have, so they can take pride in their natural diversity.
"But first we have to find and understand what's there," she said.
Help wanted: Only those with taxidermy skills and willingness to collect road kill need apply
For decades it wasn't always expected, or accepted, that women might answer such a call, and maybe that was the problem. Mammalogy was not-so-long-ago a field dominated by men. Just a short time ago, when Mathis was looking for Ph.D. advisers, there wasn't a large pool of women mentors to pick from. Since then, over the past decade, Mathis said there's been a major shift.
"Now we have all these women that we can look to and say, OK, I want to be like her, she's doing some really awesome science."
She's been lucky enough, she says, to be shielded from many of the inequalities that still exist in science, thanks to the supportive environment at the Florida Museum. It's this environment that has allowed her to combine her passion for collections management with field research.
"The museum wants its researchers to do what they're passionate about, even when it's a little unorthodox," she said.
And while working a day job in a room filled with bones and skins isn't exactly normal, she admits, her friends and family have embraced it.
"I'm the first person they contact if they see a strange mammal, or find a bone or something," she said. "This morning, a friend of mine found a dead opossum in multiple pieces and felt the need to share that with me by texting a picture. Because, you know, of course they think I want to see this dead opossum," she laughed.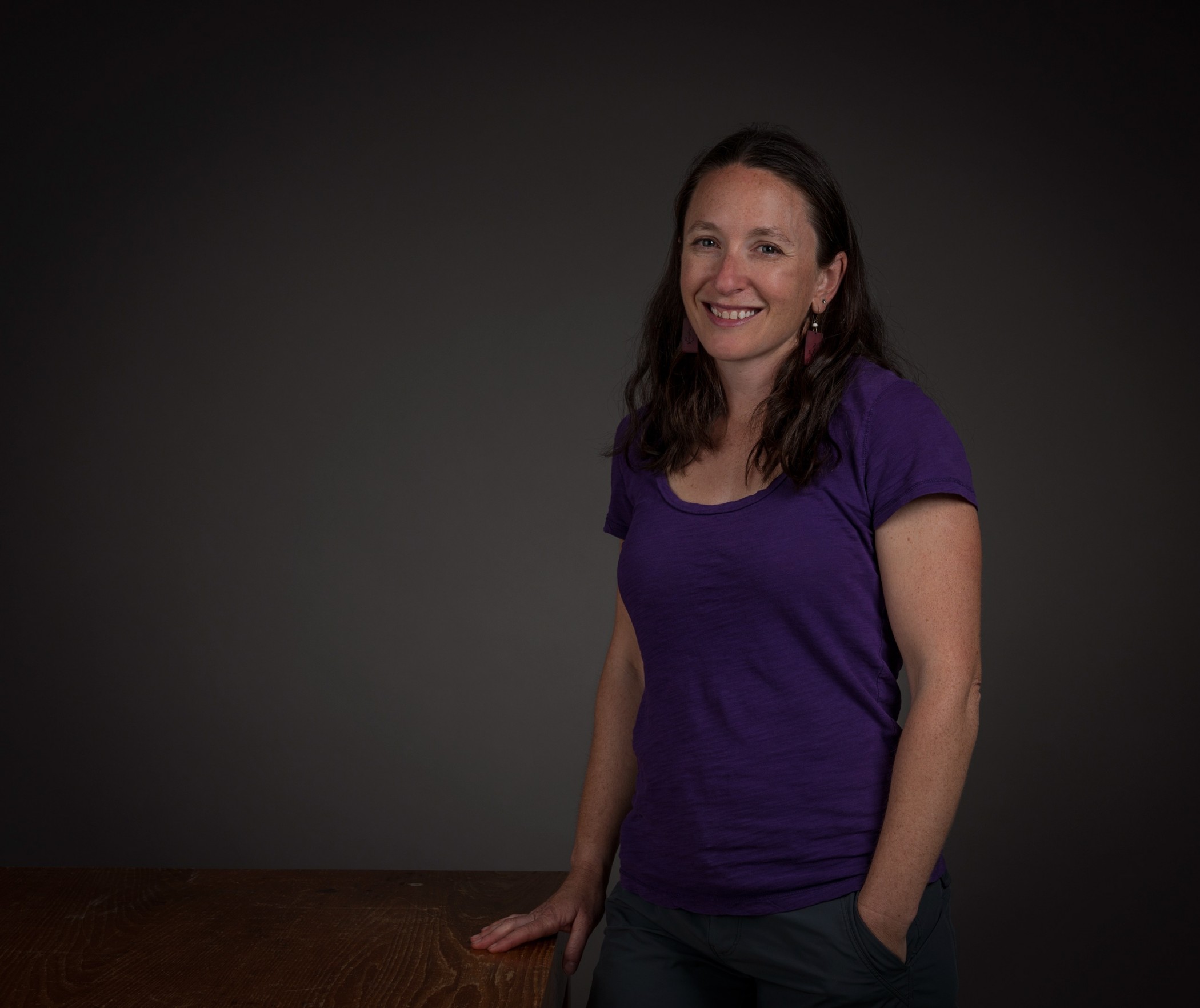 Mathis, a long-distance trail runner, says she's always pushing herself to do more, although near the beginning of her career she struggled with asking for and seeking out opportunities. "I think for young women, especially, it can be very overwhelming. We're kind of taught to not to ask for things we want."
But she hopes to facilitate the museum's mammals collection as a place where anyone can come to seek opportunities, guidance and knowledge, and leave with a newfound appreciation of its purpose in science.
"When I bring groups of students into the collections, they always seem so surprised, excited and impressed by what we have," she said, "because you walk into this one room and see all of this biodiversity."
Pt. 1: Michelle Barboza – The Fossil Hunter
Pt. 2: Adania Flemming – The Fish Whisperer
Originally published by UF News in December 2017.