The University of Florida's Florida Museum of Natural History celebrated 100 years of inspiring people to care about life on Earth in 2017. To mark the closing of an era and the beginning of a new century, UF News profiled three Florida Museum women who are shaping the research institution's future and breaking the cycle of stereotypes and misconceptions in the world of science. With modern tools like social media and podcasts, they continue the work of past and current museum women, who have fought for equality in their fields and for the visibility of women in science.
Pt. 1: Michelle Barboza – The Fossil Hunter
Pt. 2: Adania Flemming – The Fish Whisperer
Pt. 3: Verity Mathis – The Mammal Keeper
The heat was over 90 degrees at the Florida Museum's Montbrook fossil site – a crater-like hole in the ground near Williston, Florida, that's revealed thousands of rock-encased animal remains, like ancient elephant-like gomphotheres and tiny ancestors of horses that once roamed the state.
Michelle Barboza, a University of Florida graduate student who studies paleontology at the Florida Museum, took dirt and clay in her bare hands and tossed it aside, then after wiping sweat from her forehead and knocking back a swig of sunbaked water, she said, "It's my turn to do dishes tonight – that's worse than this."
In grade school and in college she thought 'the scientist life' was an "out of reach, unknowable thing." Scientists are mostly rigid white guys, she thought — would they accept a tattooed, queer, first-generation American Latina into their ranks?
Video by Alyson Larson, UF Scale
But she's always been a scientist in the making, she says — even if it took a while for her to realize it. Barboza, a geological sciences graduate student in UF's College of Liberal Arts and Sciences, grew up going to natural history museums, art exhibitions and state parks on weekends with her family.
Barboza's approach to science is all or nothing, meaning you get her, and everything she stands for, as well as her research — research that's timely.
She's examining the teeth of ancient, extinct animals to determine what they ate; their eating habits can tell us how plants and animals expanded across North America. The teeth are from around the time of the mid-miocene climatic optimum (MMCO), a natural global warming event that occurred about 17 million years ago and led to extreme climate change, a decrease in ice sheets and intense sea level rise.
"Sounds familiar, right?" Barboza said. "We can use the past to understand the present and future.
By looking at what happened to the Earth and its atmospheric, oceanic and vegetation systems as a response to the MMCO, we can learn about the Earth's response to global climate change in general and how to prepare for it, she said.
But Barboza's voice isn't confined to the scientific world and its peer-reviewed journals. She aims to reach a broader audience: everyone.
Her scientific outreach embraces modernity — it's one that mixes mediums and is filled with meaning beyond scientific discovery, she says.
By engaging with the public via social media and her podcast Femmes of STEM, she introduces her followers to the history of women in science and connects that history to modern-day issues surrounding gender inequality in STEM.
"'Scientist' for me means putting a word to all of this curiosity that I have," she said. "It's not a white guy in a white lab coat."
Through her outreach, Barboza hopes her followers will see beyond the stereotype.
As background research for her podcast, Barboza, who is working toward a women's studies certificate at UF, began reading about the history of women in science. She was surprised to discover that women scientists in ancient and medieval times faced many of the same problems with gender equality as they do in modern times. Throughout history, she discovered, women scientists had been ignored by popular culture, men took credit for their work, or they were all but forgotten.
"I was doing research and realized, wow, this woman in 500 B.C. had the same problems as women in 2017," she said. "That's when I decided to talk about it, and not just for history's sake, but for women today."
Barboza said this invisibility of women and people of color in science creates a false narrative that they didn't exist.
And while she still encounters biases leftover from a tradition where 'scientist' was a man's role, that's changing, she says.
Though her podcast is focused on bringing hidden figures to light, she refuses to become one. She's part of a new age in science, Barboza says — one where scientists of all genders and sexual orientations are equals, both in the lab and in the field.
It was when she took an introductory paleontology course during her undergraduate years at California State University, Fullerton, that Barboza made the connection that careers exist where people can spend their lives digging up the fossils she'd seen in natural history museums as a kid.
"Once that newsflash came to me, I thought, 'Well, this is cool,'" she said.
Barboza had worked with fossils at The Cooper Center, established by CSU, took more paleontology classes, and traveled in 2014 to Panama with the Florida Museum's Panama Canal Project, on a trip designed as an outreach to middle and high school science teachers. But after receiving her bachelor's in geological sciences, she wasn't sure what she wanted to do next.
Her commitment to paleontology came with an extra push — someone in science who would say, "Yes, you are welcome."
In 2016, she got an email from Bruce MacFadden, a distinguished curator of vertebrate paleontology at the Florida Museum and director of PCP, saying simply, "Hey, I think you'd be a good fit for our graduate program."
Soon the Californian was on a one-way Florida-bound flight.
"If you'd told me five years ago that I'd be in graduate school for science, I would've told you that you're crazy," Barboza said. "I never thought I'd find so much acceptance."
The further Barboza goes into her graduate education, the more opportunities she's found for outreach: from volunteering at Florida Museum events to speaking to grade school students to her growing podcast and social media audience. This year, she was even featured in Super Cool Scientists, a coloring book for kids focused on women in STEM, created by author Sara MacSorley and illustrator Yvonne Page.
Paleontology, like astronomy and archaeology, she says, is an ideal field for teaching children about science because it's visual and hands-on. People can see it and reach out and touch the fossils, which serve as physical proof that scientific findings are real, and make the science seem less abstract, she said. Ultimately, Barboza plans to pursue a Ph.D. in education as she continues to act as an ambassador for science education.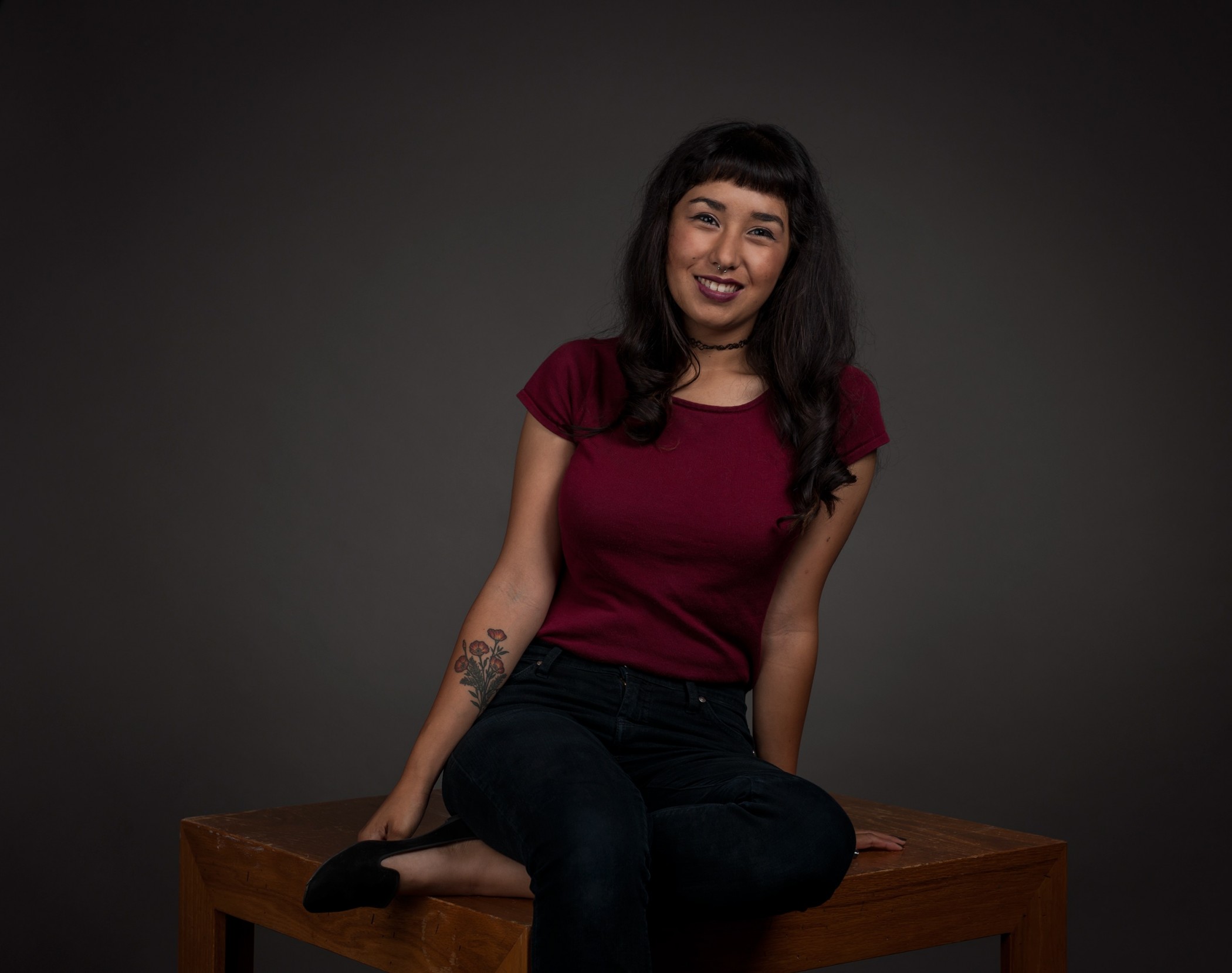 However, Barboza said she's not in the business of convincing everybody to become a scientist. She simply wants to give everyone the chance to relate to scientists and appreciate what they do.
"I love fieldwork and doing research, but nothing compares to talking to other people about it," she said.
She hopes her outreach will start new conversations about women in science, a world she says hasn't always been friendly toward women. Plus, it's easier to find the confidence to enter a scientific field if you see others like yourself paving the way, she said.
That's why Barboza wants to make herself visible as a woman, a woman of color and as a feminist, she said.
"I don't want to perpetuate that sort of culture where I feel like I have to dress up as a scientist to come to work," Barboza said.
"I am me and me also happens to be a scientist and they are very equal. I like identifying as a scientist; it helps me remember who I am, how I was raised – it's not some stereotype I fit into."
Pt. 2: Adania Flemming – The Fish Whisperer
Pt. 3 Verity Mathis – The Mammal Keeper
Originally published by UF News in December 2017.