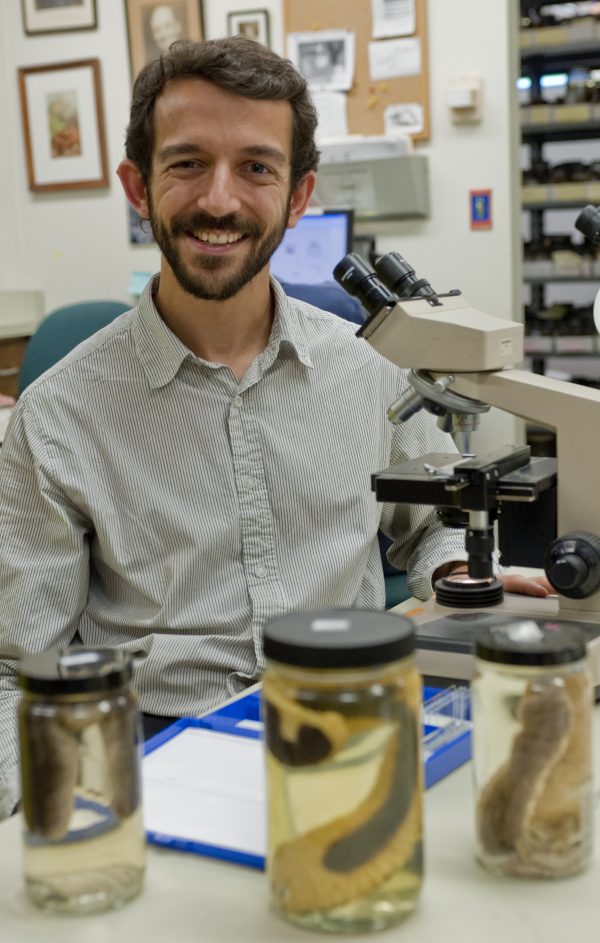 The Florida Museum of Natural History recently announced the winners of the 2014 Austin Award and Bullen Award. Two University of Florida students received the awards from the museum's University Teaching Committee for their research and contributions to the museum's collections.
Francois Michonneau received the Austin Award for his work on the systematics and evolution of sea cucumbers. The Austin Award honors Oliver Austin, a former Florida Museum ornithology curator, and recognizes one UF graduate student performing research guided by a Florida Museum curator, collection manager or research scientist.
Michonneau conducted his research under the mentorship of Gustav Paulay, the museum's marine malacology curator, and traveled on expeditions to the French-Polynesian Islands, Japan and Madagascar to collect sea cucumbers, sea urchins and other invertebrates from coral reefs. After more than 20 expeditions, he has contributed about 12,000 invertebrate specimens to the Florida Museum collections.
Jeffrey Vadala received the Bullen Award for his research on the architecture of the Mayan archaeological site Cerros in Belize and work to help create and curate an exhibit on his research in 2012. Florida Museum curator of Latin American art and archaeology Susan Milbrath nominated Vadala for his work in Yucatan and Belize and praised his computer modeling skills that allowed him to create the 3-D graphics for the Cerros exhibit.
The Bullen Award is named for former Florida Museum archaeology curator Ripley P. Bullen, and recognizes one UF undergraduate or graduate student for research on the anthropology of Florida or the Caribbean Basin. The student must be guided by a Florida Museum curator, collection manager or research scientist, and preference is given to students spending a significant portion of their scholastic career researching the museum's programs and collections.