During the eighteenth century, Europeans began to organize natural history as a transatlantic activity of travel, collection, correspondence, and exchange. In London, England, a group called the Royal Society offered its members, or Fellows, a forum for scientific communication.
Reflecting the crown's interests, the Royal Society also vested interests in the natural resources of England's American colonies, and a circle of Fellows, peers, and affluent physicians (many who were Quakers) maintained preserved collections and living collections on their garden estates. At the leading end of this fortunate and long-lived group were Sir Hans Sloane, founder and patron of the British Museum, and Dr. Martin Lister, Royal Society founder and recognized natural history authority.
Thanks to Mark Catesby, the roundabout of this natural history circle increasingly included like-minded colonists in North America, such as John Bartram, and widened to include experts on the European continent. Participants resolved a mutually acceptable framework for presenting natural history in print.
The searching eye was the collector, many of whom, like Catesby, were artists, often self-taught. These persons enjoyed firsthand experience of nature, which they shared with larger audiences through specimens, letters, drawings, and publications. Like this exhibit, Catesby's efforts required patronage, permits, social support, and audience outreach-in a word, funding.
Mark Catesby was a man of modest means. On his first trip to England's American colonies (1712-1719), Caresby stayed with his relatives and relied on his own financial resources.1 On his second trip (1722-1726), however, Catesby received support from a number of patrons on both sides of the Atlantic, including in England, The Royal Society's affluent Sloane and eminent botanist William Sherard, and in the colonies, South Carolina's newly appointed royal governor Colonel Francis Nicholson.2 To meet expectations of the Royal Society and to keep his pension, Caresby sent back natural history specimens, some then forwarded to scientists in Paris, Leiden, and Danzig.
On his return to London in 1726, Caresby's patronage ceased because he was no longer collecting specimens. To support himself, Catesby worked as a gardener and began to prepare his drawings and notes for publication. Aware of his artistic limitations, he opted for simple flat images of his subjects.3 To lower costs, he prepared his book in parcels of twenty plates, later bound in two volumes as The Natural History of Carolina, Florida and the Bahama Islands.4
During the eighteen-year period that Caresby spent working on his book in England, he sought help through the Royal Society. He consulted others about the Latin terms and organization of his text.5 He learned etching to reproduce his watercolors for publication and shared his new skills with George Edwards, later his posthumous editor.
At the end, Catesby needed some fresh specimens to color the artwork for his Natural History and, through Collinson, contacted John Bartam, a Pennsylvania Quaker. flartram sent Catesby bird nests, skins, turtle eggs, flowers, plants, seeds, and detailed information. Collinson also showed Caresby some insects that Barrram had sent him. A thankful Caresby sent Barrram an expensive gift, the first volume of his book.6
Cateshy also consulted published books, Of those with illustrations, the most outstanding was Lister's work, eventually a four-volume book published in 1692 with more than 1,000 copperplate engravings (many showing species now extinct). The artists of the colored plates and original drawings were Lister's daughters, Susanna and Anne, great grandnieces (on their mother's side) of the lauded gardener and herbalist, John Parkinson.
Only thirteen or fourteen years old at the project's start, Anne proved the more talented of the two girls. She developed a distinctive self-confident style and taught herself engraving (while mothering the six children who survived her early death). Viewing these remarkable images, Catesby recognized the challenge before him as he saw his own work through the printing process.
For those living in England's American colonies, Catesby's volumes were a singular resource, and his work, in turn, inspired one of Bartram's children, William Bartram, to study nature in the Southeast. Like Catesby, William, too, was a late bloomer requiring encouragement and patronage.
In 1772, one of Collinson's London contacts, Dr. John Fothergill, commissioned William, still single at age thirty-three, to collect plants for him in Georgia. Having fulfilled his obligation to Fothergill, Bartram completed the promise of Catesby's title and eagerly headed south to north Florida, then part of two colonies, East Florida and West Florida.
Bartram had traveled the St. Johns River in East Florida with his father in the 1760s, and in the spring of 1774, he trekked farther inland with British fur traders to the Great Alachua Savanna (now Paynes Prairie State Preserve). The resident Lower Creeks, bemused with his activities, called him Pus Puggy, or Flower Hunter.
Delayed by the momentous events of nationhood, Bartram published his stout book of Travels in Philadelphia in 1791.7 Although sparsely illustrated, the book, as well as the Bartram family garden and William's many unpublished drawings, encouraged others to form their own natural history circle in Philadelphia. An early focus was Florida, and through Catesby's work, they recognized the advantages of publications with colored illustrations.
This talented and varied group, mostly Quakers, included Bartram's student, the Scottish poet Alexander Wilson; Bartram's friend, the army doctor William Baldwin; Wilson's editor, the businessman George Ord; Bartram's great-nephew, the New Harmonite Thomas Say; and the son of Bartam's portrait painter, then still a boy, Titian Ramsey Peale. These naturalists traveled to Florida and were followed in 1831/2 by another who intended to outshine them all, John James Audubon.
George Frederick Frick and Raymond Phineas Stearns, Mark Catesby: The Colonial Audubon (Urbana, IL: University of Illinois Press, 1961), p. 11.
Frick and Stearns, 1961, p. 19.
Mark Catesby. The Natural History of Carolina, Florida and the Bahama Islands… 2 vols. (London: Printed for the author, 1731-43), I, Preface, p. vi.
Frick and Stearns, 1961, p. 37.
Frick and Stearns, 1961, p. 36.
Frick and Stearns, 1961, p. 90.
Mark Van Doren, ed., Travels of William Bartram(New York: Dover 1928).
Charlotte M. Porter, Ph.D., is Curator at the Florida Museum of Natural History, University of Florida, Gainesville, Florida, USA.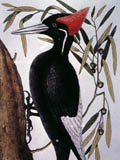 White Bill Wood Pecker and Willow Oak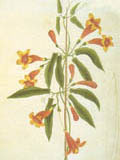 Bigonia Americana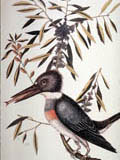 Bird Fish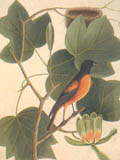 Baltimore Bird

American Goldfinch

Balsam Tree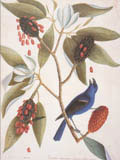 Blue Gross Beak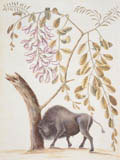 Buffalo Pseudoacacia

Chamaedaphne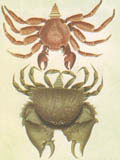 Crabs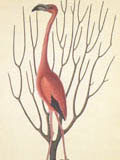 Flamingo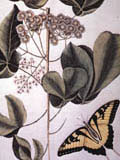 Frutex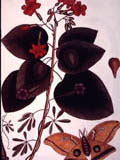 Great Moth

Green Snake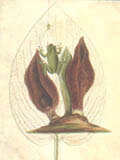 Green Tree Frog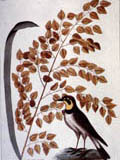 Lark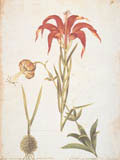 Lilium Carolinianum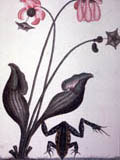 Pitcher Plant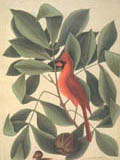 Red Bird

Chipmunk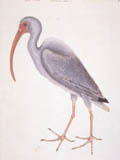 White Curlew

Magnolia Studies


Kalmia

Angel Fish

Bald Eagle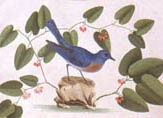 Blue Bird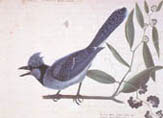 Blue Jay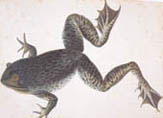 Bull Frog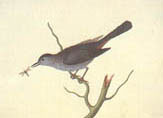 Cat Bird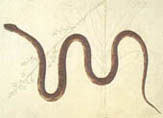 Corn Snake

Fieldfare of Carolina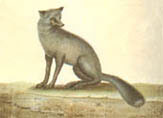 Gray Fox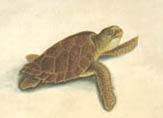 Hawks Bill Turtle

Hog Nose Snake

King Fisher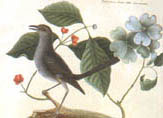 Mockingbird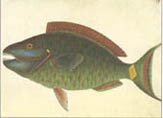 Parrot Fish

Parrot or Carolina Parakeet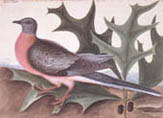 Pigeon of Passage

Mustela putorius

Queen Triggerfish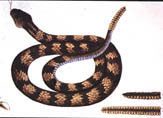 Rattle Snake

Rice Bird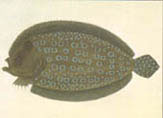 Sole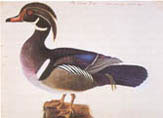 Summer Duck

Umbrella Tree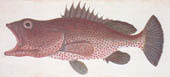 Hind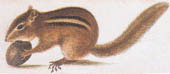 Ground Squirrel