As one of the most comprehensive research centers of paleontology in North America, we are recognized internationally for research on fossil invertebrates, vertebrates, and plants.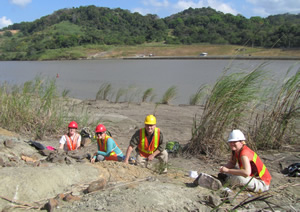 Our multi-departmental graduate program in anthropology, biology, and geological sciences includes six full-time faculty members, over 20 postdoctoral and graduate students, and numerous successful alumni. Externally funded projects and major endowments support high-impact research.
Our actively growing catalogued fossil collections are managed by a staff of three collection professionals aided by support staff, student assistants, and volunteers. Currently totaling over 10 million specimens, our collections have an increasing presence in the digital world. We are a major intellectual hub for research, global outreach, exhibits, citizen paleontology, and public and K-12 education.
As a major and rapidly growing research-training center for the next generation of professional paleontologists, we invite you to learn more about our program.

We house the editorial office of Paleobiology, an influential journal of the Paleontological Society.


We were the host of the 2014 North American Paleontological Convention.