These fish first appeared in Florida in the early 1960s as escapees of the aquarium trade. They can breathe air and wriggle across land to invade new bodies of water, contributing to their success – though their impact is not well-studied.
Summary
Walking Catfish (Clarias batrachus)
From Palm Beach Co., Florida, June 1981
Collection
Story
Florida is "home" for many introduced species, including at least 48 kinds of fish from other states and countries. One of these is the Walking Catfish. Native to areas of Southeast Asia, the Walking Catfish is able to breathe air and wriggle across land to invade new water bodies.
The Walking Catfish has captured the attention of Floridians since their arrival in the early 1960s as escapees of the aquarium trade. So plentiful is the Walking Catfish in some locations in South Florida, that catfishes traversing roads on rainy nights have been run over by cars by the score.
Despite their decades-old history in Florida, the impact of the Walking Catfish on Florida's natural systems remains poorly understood. Moreover, despite having been introduced some 60 years ago, the identification of Walking Catfish in Florida as Clarias batrachus might be incorrect. A 2008 study indicates that Clarias batrachus is likely a species complex of up to four species with the "true" Clarias batrachus restricted to Java, in Indonesia. Thus, if the source population for the Walking Catfish in Florida is in mainland Southeast Asia, it is unlikely that what is in Florida is Clarias batrachus.
Robert Robins
Collection Manager, Ichthyology*
Florida Museum of Natural History
Additional Information
Species profile: Walking Catfish (Clarias batrachus)
---
Exhibit
On display Sept. 23, 2017-Jan. 7, 2018, Rare, Beautiful & Fascinating: 100 Years @FloridaMuseum celebrated the Museum's rich history. Each Museum collection was asked to contribute its most interesting items and share the stories that make them special. Though the physical exhibit is closed, this companion website remains online, providing an opportunity to experience the Florida Museum's most treasured specimens.
Exhibit Area: Objects Tell Stories
Theme: Invasive Species of Florida
---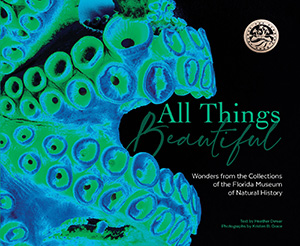 Want to see more? Explore more than 300 breathtaking color photos of plants, animals, fossils and cultural heritage materials from the Florida Museum of Natural History's collections in the award-winning book All Things Beautiful available from the University Press of Florida.
---
*This title was accurate at the time the exhibit was on display in 2017. Please visit the collection website to verify current staff and student information.