The Sun Star enjoyed a wide distribution along both American coasts until the Isthmus of Panama formed 3-4 million years ago. Afterward, many East Coast species went extinct, including the Sun star. The species still thrives today along the Pacific Coast of North and South America.
Summary
Sun Star Fossil (Heliaster microbrachius)
From Charlotte Co., Florida
Lived ~5–2.5 million years ago (Pliocene)
Collection
Story
Collected from a construction excavation in El Jobean, Florida, by Bill and Lelia Brayfield in the 1980s, this cluster of Sun stars named Heliaster microbrachius came to the Florida Museum after residing in the Brayfield's vegetable garden.
While the occurrence of complete fossil sea stars are rare, it is perhaps the biogeographic implications of these specimens which are most interesting. Heliaster microbrachius enjoyed a wide distribution along the west and east coasts of the Americas up until a few million years ago when the uplift of the Central American Isthmus likely caused this, and many other Florida fossil species with Pacific affinities, to go locally extinct. However, this species can still be found living today along rocky shorelines of the west coast of North and South America.
Roger Portell
Collection Manager, Invertebrate Paleontology*
Florida Museum of Natural History
Additional Information
Read: Ancient sea stars pose challenge for paleontologists
---
Exhibit
On display Sept. 23, 2017-Jan. 7, 2018, Rare, Beautiful & Fascinating: 100 Years @FloridaMuseum celebrated the Museum's rich history. Each Museum collection was asked to contribute its most interesting items and share the stories that make them special. Though the physical exhibit is closed, this companion website remains online, providing an opportunity to experience the Florida Museum's most treasured specimens.
Exhibit Area: Objects Tell Stories

Theme: Ancient Sea Life

---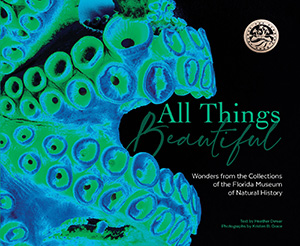 Want to see more? Explore more than 300 breathtaking color photos of plants, animals, fossils and cultural heritage materials from the Florida Museum of Natural History's collections in the award-winning book All Things Beautiful available from the University Press of Florida.
---
*This title was accurate at the time the exhibit was on display in 2017. Please visit the collection website to verify current staff and student information.