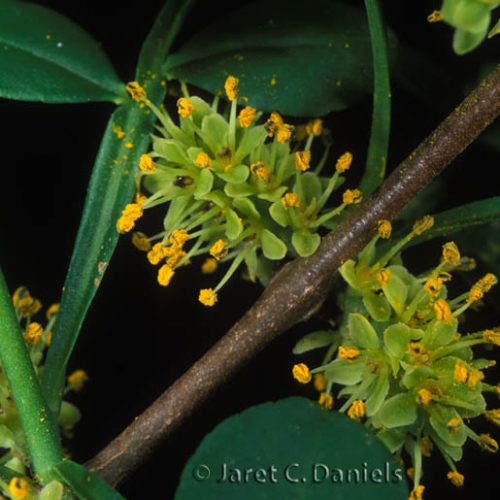 Host plant for: Giant Swallowtail (Papilio cresphontes), Bahamian Swallowtail (Papilio andreamon bonhotei) and Schaus' Swallowtail (Papilio aristodemus ponceanus)
General description: Woody, evergreen and often multi-stemmed tree with compound leaves, sharp thorns, and clusters of small, yellow-green flowers. Adaptable and easy to grow. Prefers well-drained soils in full sun to part shade but flourishes with regular irrigation. Rapid growth. Drought tolerant and maintenance-free once established. Dies back to the ground with freezing temperatures. Sharp thorns warrant caution and may limit garden use.
Type: Evergreen tree
Flower: Clusters of small, yellow-green flowers
Bloom time: Spring
Soil type: Prefers thin, neutral to moderately alkaline soils
Maximum height: 25 feet
Candidate for home gardens: Evergreen, rapid growing
Availability in nursery: Specialty and native plant nurseries
Frenquency in the wild: Common
Habitat: hardwood forests
County: Brevard, Broward, Charlotte, Citrus, Collier, De Soto, Hardee, Hendry, Highlands, Hillsborough, Indian River, Lee, Manatee, Marion, Martin, Miami-Dade, Monroe, Okeechobee, Osceola, Palm Beach, Pasco, Pinellas, Polk, Sarasota, St. Lucie, Sumter, Volusia
Full Sun
Partial Sun
Drought tolerant
---
The Florida Wildflowers & Butterflies projects at the Florida Museum are sponsored in part by the State of Florida and the Florida Wildflower Foundation, Inc.