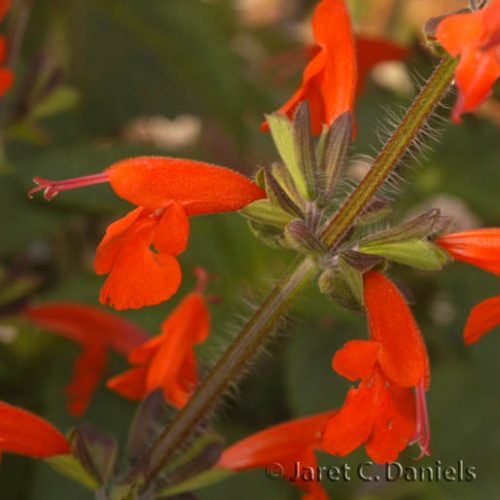 General description: Erect herbaceous perennial with opposite leaves and terminal spikes of tubular, bright red flowers. Adaptable and easy to cultivate, prefers well-drained sites in full sun to light shade. Long blooming period. Readily spreads by reseeding. Can be somewhat weedy. Flowers attract butterflies, hummingbirds and other pollinators.
Type: Short-lived perennial
Flower: Terminal spikes of tubular, bright red flowers
Bloom time: All year
Soil type: Poor, neutral to slightly alkaline, well-drained soils
Maximum height: 3 feet
Candidate for home gardens: Very easy to cultivate, showy flowers
Availability in nursery: Common
Frenquency in the wild: Common
Habitat: Hardwood Forests, ruderal
County: Alachua, Brevard, Broward, Citrus, Clay, Dixie, Duval, Escambia, Flagler, Gadsden, Hernando, Highlands, Hillsborough, Indian River, Jackson, Lake, Lee, Leon, Madison, Manatee, Marion, Martin, Miami-Dade, Okaloosa, Okeechobee, Palm Beach, Pinellas, Polk, Putnam, Sarasota, Seminole, St. Lucie, Sumter, Volusia
Full Sun
Partial Sun
Drought tolerant
---
The Florida Wildflowers & Butterflies projects at the Florida Museum are sponsored in part by the State of Florida and the Florida Wildflower Foundation, Inc.