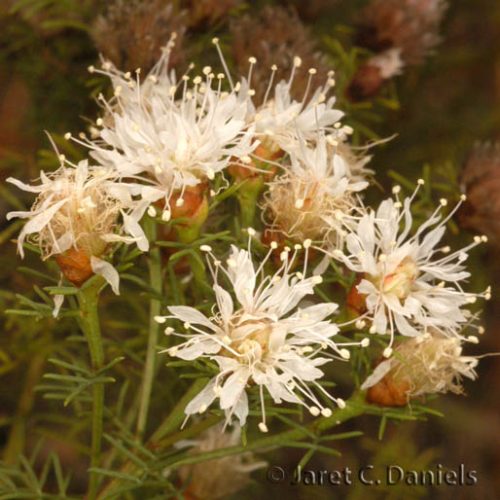 Host plant for: Southern Dogface (Zerene cesonia)
General description: Erect herbaceous perennial with branched stems, finely dissected compound leaves and dense terminal heads of white flowers. Propagate from seed. Grow in full sun to part shade with good drainage. Can tolerate very dry conditions. Particularly showy in mass plantings.
Type: Perennial
Flower: Terminal white flowers
Bloom time: Late summer and fall
Soil type: Dry, well-drained, sandy soils
Maximum height: 3 feet
Candidate for home gardens: Distinctive appearance. Drought tolerant.
Availability in nursery: Native plant nurseries
Frenquency in the wild: Common
Habitat: Sandhills
County: Alachua, Bay, Citrus, Clay, Columbia, Dixie, Duval, Franklin, Gilchrist, Hardee, Hernando, Highlands, Hillsborough, Holmes, Jackson, Jefferson, Lake, Leon, Levy, Madison, Marion, Martin, Nassau, Okaloosa, Orange, Osceola, Pasco, Pinellas, Polk, Putnam, Seminole, St. Johns, Sumter, Taylor, Volusia, Washington
Full Sun
Partial Sun
Drought Tolerant
---
The Florida Wildflowers & Butterflies projects at the Florida Museum are sponsored in part by the State of Florida and the Florida Wildflower Foundation, Inc.