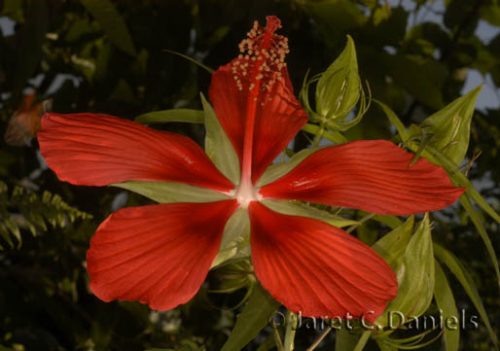 General description: Tall, erect herbaceous perennial with alternate, deeply divided leaves and large, bright red flowers, often up to 8 inches across. Adaptable. Prefers wet conditions in full sun to partial shade but will tolerate most garden situations with regular moisture. Height may limit use in smaller landscapes. Flowers attract butterflies and hummingbirds.
Type: Perennial
Flower: Large, showy, bright red flowers
Bloom time: Late spring and summer
Soil type: Moist to wet fertile soils
Maximum height: 6 feet
Candidate for home gardens: Easy to cultivate. Showy plant for a back border.
Availability in nursery: Occasional
Frenquency in the wild: Common
Habitat: Wetlands
County: Brevard, Broward, Clay, Collier, Duval, Flagler, Franklin, Hillsborough, Lake, Levy, Marion, Okaloosa, Osceola, Polk, Putnam, Seminole, St. Johns, Volusia, Wakulla
Full Sun
Partial Sun
Wetland
---
The Florida Wildflowers & Butterflies projects at the Florida Museum are sponsored in part by the State of Florida and the Florida Wildflower Foundation, Inc.