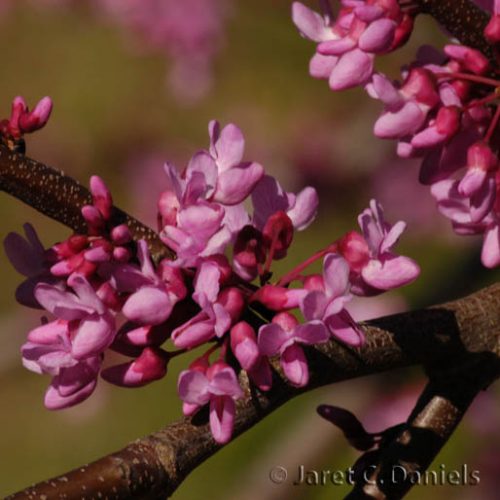 Family name: Fabaceae or Leguminosae
Host plant for: Henry's Elfin (Callophrys henrici)
General description: Small deciduous tree with spreading crown, large heart-shaped leaves and numerous clusters of small pink flowers produced on bare branches prior to new leaves. Adaptable to wide range of soil and light conditions, except perpetually wet locations. Can be grown in full sun to full shade. Trees provide stunning spring color. Use as specimen, shade or understory tree. Flowers attract butterflies and other pollinators.
Type: Small deciduous tree
Flower: Clusters of small pink flowers prior to new leaves
Bloom time: Early spring
Soil type: Moist, well-drained, acid or basic soil, can tolerate occasional short-term flooding
Maximum height: 30 feet
Candidate for home gardens: Excellent small specimen tree. Provides brilliant spring color. Both larval host and nectar source
Availability in nursery: Common
Frenquency in the wild: Common
Habitat: hardwood forests, wetlands
County: Alachua, Citrus, Clay, Columbia, Dixie, Escambia, Franklin, Gadsden, Gilchrist, Hamilton, Hernando, Jackson, Jefferson, Lake, Leon, Levy, Liberty, Madison, Marion, Polk, Santa Rosa, Sumter, Suwannee, Taylor, Washington
Full Sun
Partial Sun
Shade
Moderate Watering
---
The Florida Wildflowers & Butterflies projects at the Florida Museum are sponsored in part by the State of Florida and the Florida Wildflower Foundation, Inc.