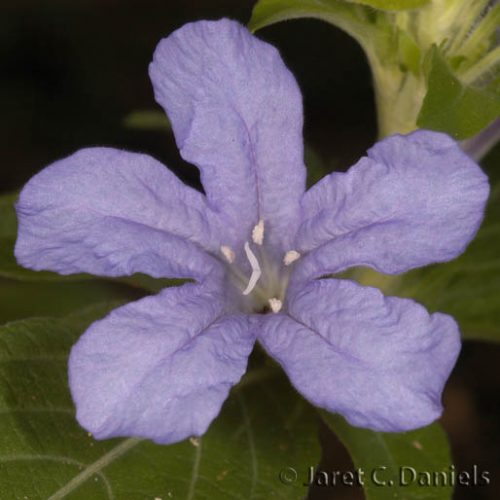 Host plant for: Occasionally Malachite (Siproeta stelenes)
General description: Erect herbaceous perennial with opposite leaves and lavender to blue tubular flowers. Adaptable and easy to cultivate. Prefers moist, well-drained sites in sun to partial shade but will tolerate drier soils with regular irrigation. Underused wildflower in gardens. Showy in numbers. Ready spreads by reseeding.
Type: Herbaceous perennial
Flower: Tubular, lavender to blue flowers
Bloom time: Spring to fall
Soil type: Moist, well-drained soils
Maximum height: 2 feet
Candidate for home gardens: Easy to cultivate. Showy in mass
Availability in nursery: Specialty and native plant nurseries
Frenquency in the wild: Common
Habitat: hardwood forests, ruderal
County: Alachua, Brevard, Broward, Charlotte, Citrus, Clay, Collier, Columbia, Dixie, Duval, Flagler, Franklin, Gadsden, Hardee, Hendry, Hernando, Highlands, Hillsborough, Holmes, Indian River, Jackson, Jefferson, Lafayette, Lake, Lee, Leon, Levy, Liberty, Madison, Manatee, Marion, Martin, Okaloosa, Orange, Osceola, Palm Beach, Pasco, Pinellas, Polk, Putnam, Sarasota, Seminole, Sumter, Suwannee, Taylor, Union, Volusia, Wakulla, Walton, Washington
Full Sun
Partial Sun
Moderate Watering
---
The Florida Wildflowers & Butterflies projects at the Florida Museum are sponsored in part by the State of Florida and the Florida Wildflower Foundation, Inc.