Family name: Apocynaceae or Asclepiadaceae
Host plant for: Monarch (Danaus plexippus), rarely used by the Queen (Danaus gilippus)
General description: Erect to sprawling herbaceous perennial with alternate leaves and showy terminal clusters of small bright orange flowers. Long blooming period provides lasting color for gardens. Successful culture requires open, sunny locations and well-drained soils. Dies back to the ground in winter across much of the state; evergreen only in southernmost counties. Flowers attract butterflies and other pollinators.
Type: perennial
Flower: Small bright orange flowers in terminal clusters
Bloom time: Spring to fall
Soil type: well-drained, sandy soil; occasionally moist sites
Maximum height: 3 feet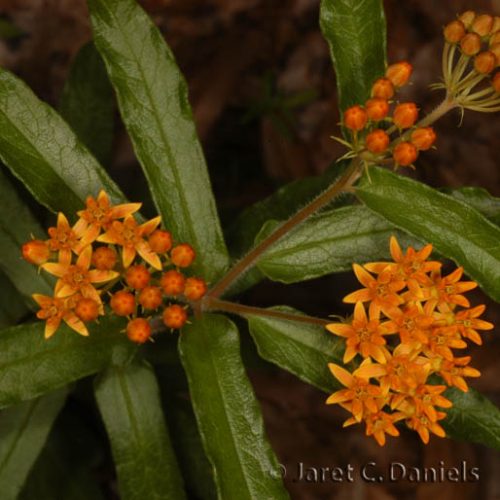 Candidate for home gardens: Excellent but often somewhat difficult to grow, both larval host and nectar source
Availability in nursery: Readily available
Frenquency in the wild: Common
Habitat: sandhills, pine flatwoods, hardwood forests, ruderal
County: Alachua, Baker, Bay, Bradford, Brevard, Calhoun, Charlotte, Citrus, Clay, Collier, Columbia, De Soto, Dixie, Duval, Escambia, Gadsden, Gilchrist, Gulf, Hamilton, Hernando, Highlands, Hillsborough, Jackson, Jefferson, Lafayette, Lake, Lee, Leon, Levy, Liberty, Madison, Manatee, Marion, Miami-Dade, Nassau, Okaloosa, Okeechobee, Orange, Osceola, Palm Beach, Pasco, Pinellas, Polk, Putnam, Santa Rosa, Sarasota, Seminole, St. Johns, St. Lucie, Sumter, Suwannee, Taylor, Union, Volusia, Wakulla, Walton
Full Sun
Drought Tolerant
---
The Florida Wildflowers & Butterflies projects at the Florida Museum are sponsored in part by the State of Florida and the Florida Wildflower Foundation, Inc.