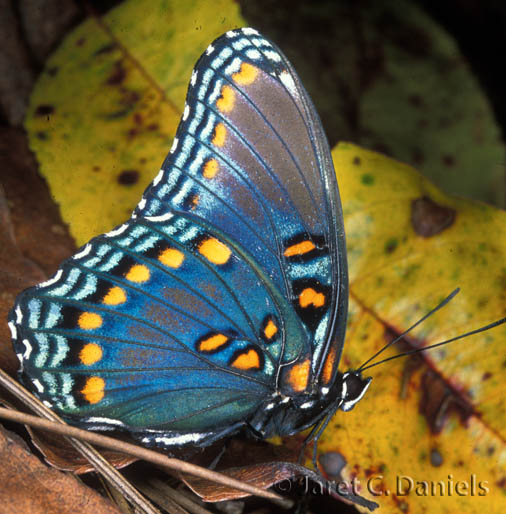 Family name: Nymphalidae/Brush-Footed Butterflies
General description: Black; hindwind with iridescent blue scaling along outer margin; ventral hindwing dull brown-black with orange basal spots and a postmedian band of prominent orange spots
Field Marks: Black; hindwing with iridescent blue along outer margin; ventral hindwing brown-black with prominent orange spots.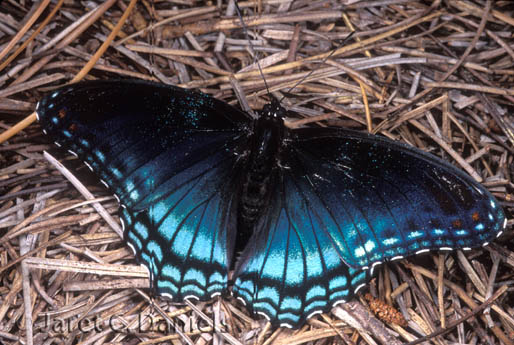 Sexes: Appear similar
Wingspan: 75-100 mm
Life Cycle: Egg: Green, laid singly on the tip of host leaves Mature larva: Green-brown with white markings, a white saddle and a pair of knobby tubercles off the thorax Chrysalis: Mottled brown and white
Number of Generations: Two or three generations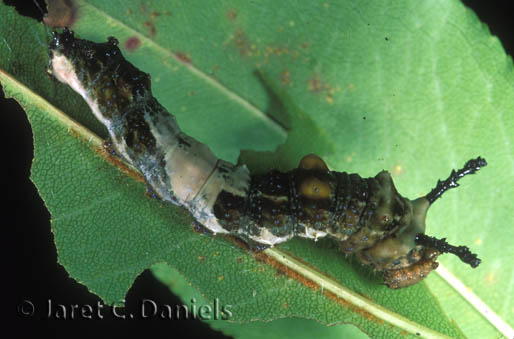 Flight Season: All year
Abundance: Common
Habitat: Deciduous forest margins and openings, woodland trails, utility easements, stream corridors, parks
Counties: North and Central Alachua, Baker, Bay, Bradford, Brevard, Broward, Calhoun, Charlotte, Citrus, Clay, Collier, Columbia, De Soto, Dixie, Duval, Escambia, Flagler, Franklin, Gadsden, Gilchrist, Glades, Gulf, Hamilton, Hardee, Hendry, Hernando, Highlands, Hillsborough, Holmes, Indian River, Jackson, Jefferson, Lafayette, Lake, Lee, Leon, Levy, Liberty, Madison, Manatee, Marion, Martin, Miami-Dade, Monroe, Nassau, Okaloosa, Okeechobee, Orange, Osceola, Palm Beach, Pasco, Pinellas, Polk, Putnam, Santa Rosa, Sarasota, Seminole, St. Johns, St. Lucie, Sumter, Suwannee, Taylor, Union, Volusia, Wakulla, Walton, Washington
Larval Host Plants: Wild Cherry (Prunus serotina), Deerberry (Vaccinius staminiun), Carolina Willow (Salix caroliniana)
Similar Species: Pipevine Swallowtail
Additional Information: Mimics distasteful Pipevine Swallowtail; adults visit rotting fruit, dung, and sap flows.
---
The Florida Wildflowers & Butterflies projects at the Florida Museum are sponsored in part by the State of Florida and the Florida Wildflower Foundation, Inc.