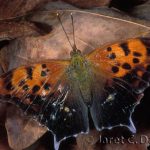 Family name: Nymphalidae/Brush-Footed Butterflies
General description: Orange with black spots and short hindwing tail; hindwing primarily black in summer-form individuals; wing margins irregular; ventral wing surfaces mottled brown and leaf-like; ventral hindwing with white question mark in center.
Field Marks: Orange with black spots and irregular wing margins; hindwing with short tail.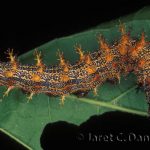 Sexes: Appear similar
Wingspan: 59-75 mm
Life Cycle: Egg: Small, green, laid singly or stacked on top of each other on host leaves Mature larva: Black with cream to orange stripes and spots, and numerous yellow to orange branched spines Chrysalis: Brown with silver dorsal spots
Number of Generations: Two generations
Flight Season: All year
Abundance: Common
Habitat: Forest margins, woodland openings, swamps, wooded yards, parks
Counties: Alachua, Baker, Bay, Bradford, Brevard, Broward, Calhoun, Charlotte, Citrus, Clay, Collier, Columbia, De Soto, Dixie, Duval, Escambia, Flagler, Franklin, Gadsden, Gilchrist, Glades, Gulf, Hamilton, Hardee, Hendry, Hernando, Highlands, Hillsborough, Holmes, Indian River, Jackson, Jefferson, Lafayette, Lake, Lee, Leon, Levy, Liberty, Madison, Manatee, Marion, Martin, Nassau, Okaloosa, Okeechobee, Orange, Osceola, Palm Beach, Pasco, Pinellas, Polk, Putnam, Santa Rosa, Sarasota, Seminole, St. Johns, St. Lucie, Sumter, Suwannee, Taylor, Union, Volusia, Wakulla, Walton, Washington
Larval Host Plants: Winged elm (Ulmus alata), Sugarberry (Celtis laevigata), Common Hackberry (Celtis occidentalis)
Similar Species: No similar species
Additional Information: Adults attracted to fermenting fruit, dung, and sap flows; adults overwinter. Limited range in Arizona.
---
The Florida Wildflowers & Butterflies projects at the Florida Museum are sponsored in part by the State of Florida and the Florida Wildflower Foundation, Inc.