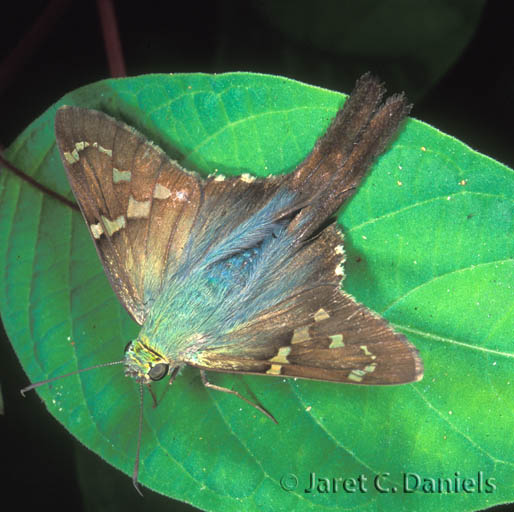 Family name: Hesperiidae/Skippers
General description: Wings brown, dorsal forewing with band of large glassy spots, hindwing with single long, prominent tail. Body and wing bases with blue-green iridescence. Ventral hindwing with continuous dark brown outer band.
Field Marks: Body and wing bases with blue-green iridescence; hindwing with single long tail.
Sexes: Appear similar
Wingspan: 48-58 mm
Life Cycle: Egg: Light yellow, laid singly or in short stacks on host leaves Mature larva: Yellow-green with black speckling, a black dorsal line, and a yellow lateral band that becomes orange toward the rear. Head black with reddish-brown patches on lower margin. Chrysalis: Brown with white waxy covering.
Number of Generations: Three or more

Flight Season: All year
Abundance: common
Habitat: Disturbed sites, old fields, roadsides, woodland margins, gardens
Counties: Alachua, Baker, Bay, Bradford, Brevard, Broward, Calhoun, Charlotte, Citrus, Clay, Collier, Columbia, De Soto, Dixie, Duval, Escambia, Flagler, Franklin, Gadsden, Gilchrist, Glades, Gulf, Hamilton, Hardee, Hendry, Hernando, Highlands, Hillsborough, Holmes, Indian River, Jackson, Jefferson, Lafayette, Lake, Lee, Leon, Levy, Liberty, Madison, Manatee, Marion, Martin, Miami-Dade, Monroe, Nassau, Okaloosa, Okeechobee, Orange, Osceola, Palm Beach, Pasco, Pinellas, Polk, Putnam, Santa Rosa, Sarasota, Seminole, St. Johns, St. Lucie, Sumter, Suwannee, Taylor, Union, Volusia, Wakulla, Walton, Washington
Larval Host Plants: Numerous members of the Pea family (Fabaceae) including Beaked Butterfly Pea (Centrosema virginianum), American Wisteria (Wisteria americana), Kudzu (Pueraria Montana), and ticktrefoils (Desmodium spp.)
Similar Species:
Additional Information: Range is limited in Pennsylvania, New York and Massachusetts. Adults disperse northward each year to temporarily colonize portions of the Southeast and Atlantic coast. In the fall, large numbers of adults migrate southward into peninsular Florida to overwinter. Adults avidly visit available flowers. Larvae construct individual leaf shelters on host.
---
The Florida Wildflowers & Butterflies projects at the Florida Museum are sponsored in part by the State of Florida and the Florida Wildflower Foundation, Inc.