The recession may be responsible for a slump of a different sort: an unexpected dive in shark attacks, says a University of Florida researcher.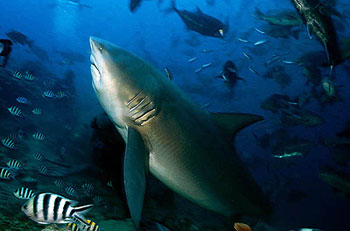 Shark attacks worldwide in 2008 dipped to their lowest level in five years, a sign that Americans may be forgoing vacation trips to the beach, said George Burgess, ichthyologist and director of the International Shark Attack File, which is housed at UF.
According to the latest statistics released today, the total number of shark attacks declined from 71 in 2007 to 59 in 2008, the fewest since 2003, when there were 57, said Burgess, who works at the Florida Museum of Natural History on the UF campus.
"I can't help but think that contributing to that reduction may have been the reticence of some people to take holidays and go to the beach for economic reasons," Burgess said. "We noticed similar declines during the recession that followed the events of 2001, despite the fact that human populations continued to rise."
Shark attacks dropped in the United States and abroad in 2008, Burgess said. In recent years, vacationing tourists have been attacked off beaches in remote parts of the globe, such as Cocos Island in the Indian Ocean, where none was reported in the past, he said.
There were four fatal attacks last year — an average number — compared with only one in 2007, which marked a two-decade low. Two of the deaths were in Mexico, one was in Australia and one was in the United States.
La Niña, a meteorological condition that brings water masses and deep ocean creatures closer to shore, probably was a factor in the deaths of two male surfers and injury of a third that occurred in less than a month along a resort-studded stretch of Mexico's southern Pacific coast, Burgess said. The U.S. fatality was a 66-year-old man swimming at Solana Beach, Calif., while the Australian death occurred along the country's eastern coast and involved a 16-year-old boy.
The number of shark attacks in the United States, which typically makes up about two-thirds of the total worldwide, dropped from 50 in 2007 to 41 in 2008, Burgess said. Thirty-two of those attacks were in Florida — the same number as the previous year — followed by North Carolina and South Carolina, with three each; Hawaii, two; and California, one.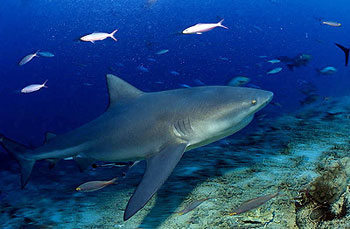 Florida, with its warm waters, has more sharks, including black tip sharks and spinner sharks, species not found in lower temperatures, Burgess said. "A lot less attacks occur off Long Island, New York, than Florida simply because there are fewer sharks up there," he said.
Within Florida, Volusia County continued its dubious distinction as the world's shark bite capital with 22 incidents, its highest yearly total since 2001, Burgess said. Attractive waves off New Smyrna Beach on the central Atlantic coast are popular with surfers, he said.
As in past years, surfers accounted for most of the world's attacks — 57 percent — followed by swimmers and waders, 36 percent; and divers, 8 percent, he said. These numbers are rounded up, which is why they total more than 100 percent.
"Surfers are the heavy favorites largely because the splashing of arms and particularly the kicking of feet at the water's surface where visibility is poor is provocative to sharks," Burgess said. "They result in what we think are cases of mistaken identity, where the shark interprets the irregular splashing to be activities of its normal prey."
As a group, surfers seem to accept the risks of pursuing a sport in the ocean, he said.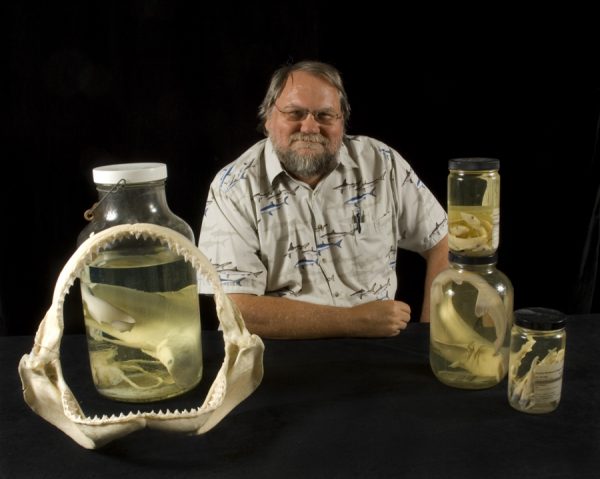 "I've yet to find a surfer who says he or she won't go back into the water after a bite or a nip," he said. 'Some of them may be looking over their shoulders a little bit more than they did before, but the reality is they understand where humans fall in the grand order of things."
Burgess said he doubts the economic recession is likely to deter surfers because their interest in the recreational activity is so high. "It's oftentimes not a group that is economically blessed, but all they have to do is drive to the beach with the board and get into the water, and the rest is free," he said.
To a certain extent, divers, like surfers, pursue their sport as something of an avocation, leaving swimmers and waders as the group most likely to be affected by economic hardship, Burgess said. "These are sort of the average folks that go to the water for recreation, lie on the beach, work on their suntan and take their kids in the surf for a swim," he said. "I would expect their numbers to decline in 2009."
Over the long term, though, Burgess expects shark attacks to rise because of a gradual upswing from one decade to the next. "We've already surpassed the numbers of attacks in the previous 10-year period," he said, "so we know this decade will be higher than the last."
---
Learn more about the Ichthyology Collection at the Florida Museum.