A remarkably well-preserved blanket octopus washed ashore in Wilbur-by-the Sea Wednesday morning, offering "a rare glimpse of an animal that can't easily be observed or collected," said John Slapcinsky, invertebrate zoology collections manager at the Florida Museum of Natural History.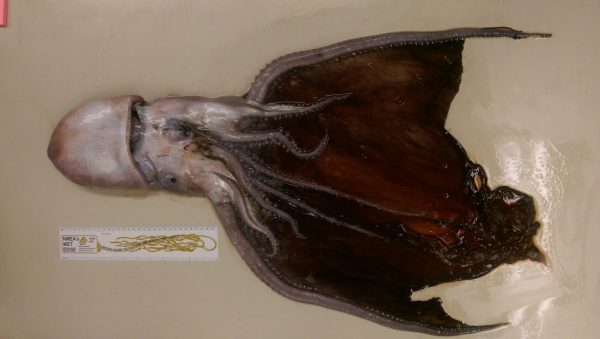 About 53 inches long, the female was likely dying when it was caught in a seasonal upwelling that pulls deep ocean water and its inhabitants to the surface off the East Coast of Florida, he said.
Found by Beth Libert, president of the Volusia-Flagler Turtle Patrol, the octopus is now at the museum on the University of Florida campus in Gainesville where it will be preserved for future research. It is only the second blanket octopus in the museum's collection, joining a Tremoctopus gelatus specimen that washed ashore 15 years ago, Slapcinsky said.
Named for the large web of skin attached to their tentacles, only four species of blanket octopus have been described, and little is known about them, Slapcinsky said. Blanket octopuses often swim too deep to be observed by divers, and when caught in trawl nets, the delicate animals tend to end up "looking like ground beef," he said. "We were lucky this one was not damaged. It's in excellent condition."
Slapcinsky identified the species as Tremoctopus violaceus, or the common blanket octopus, by the deep maroon web that spans its dorsal and dorsolateral tentacles like a cape. The web's function remains a mystery, but scientists hypothesize that it could be used to protect eggs or exaggerate the size of the octopus, perhaps scaring away potential predators, he said.
Male and female common blanket octopuses provide one of the most extreme examples of sexual dimorphism — physical differences between females and males — in the animal kingdom, Slapcinsky said. While females can grow to more than 6 feet in length, males are about an inch long and resemble larval octopuses. Males transfer sperm to the female via a detachable arm that she stores in a pouch until needed.
Most species inhabit the bottom of the ocean, but the blanket octopus is adapted to living in the water column.
"Because of that, they don't look like other octopuses," Slapcinsky said. "They're a lot less muscular and more closely resemble squids, which are also mid-water dwellers."
Chad Macfie, a former museum employee now at the Marine Science Center, contacted the museum with photos of a squid-like animal that washed ashore in Volusia County, Slapcinsky immediately drove south with a cooler of ice. He wasn't sure what kind of animal he would retrieve, but he knew it wasn't a squid.
"I knew from the shape that it was something much more interesting," he said.
He picked up the blanket octopus from Macfie in a Walmart parking lot and, back at the museum, took photos and a tissue sample before placing the specimen in formalin, which will help preserve the fragile body before it is transferred to ethanol.
---
Source: John Slapcinsky, slapcin@flmnh.ufl.edu, 352-273-1829
Learn more about Invertebrate Zoology at the Florida Museum.