The Florida Museum of Natural History has appointed Keith Willmott director of the McGuire Center for Lepidoptera and Biodiversity, one of the world's premier research institutes dedicated to butterflies and moths.
Willmott, a curator who specializes in Neotropical butterflies, succeeds Jaret Daniels in the role. As director, he will oversee the continued growth, management and accessibility of the center's collection, which houses some 10 million specimens, with hundreds of thousands added annually. Now in its seventeenth year, the center was founded by the late Tom Emmel and features thriving research and conservation programs, a public gallery and the "Butterfly Rainforest" exhibit, a nature experience that has mesmerized more than 1.5 million visitors.
"The McGuire Center has the most comprehensive butterfly and moth collection associated with a university, and we have this great opportunity to involve students in what we do," Willmott said. "Our rapid growth is enabled in part because we have the help and energy of one of the largest groups of people dedicated to Lepidoptera in the world – our students, collection assistants and curators. I appreciate the hard work and vision of both our previous directors and feel it is time for me to make my own contribution."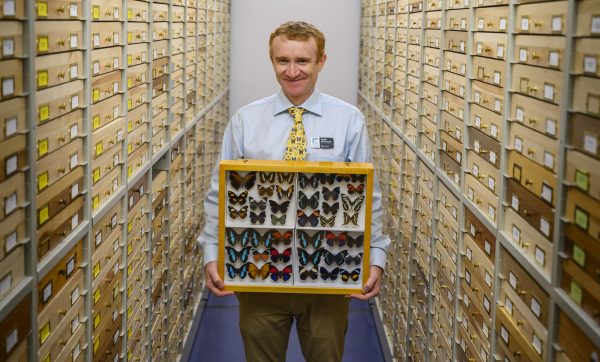 In addition to furthering the goals of his predecessors, Willmott sees opportunities to strengthen community and research collaborations among curators, collections staff and students and to build on the center's foundation as a leader in specimen digitization. Making specimen information available online helps scientists to investigate questions about butterfly and moth evolution and ecology, as well as assess the conservation status of species under threat, he said.
"Having forged strong partnerships with international collaborators and students, Dr. Willmott has contributed significantly to the growth of the McGuire Center collections, including the frozen tissue collection used in generating DNA sequence data. He has also identified hundreds of species new to science, conducted extensive fieldwork and mentored many University of Florida students during his career," said Douglas Jones, director of the Florida Museum. "With his breadth of experience and productivity, Dr. Willmott is wonderfully qualified to lead the McGuire Center through the next phase of its development."
How a chance trip led to a career in natural history
Having previously contemplated following in his father's footsteps in the oil industry, Willmott's enthusiasm for butterflies sprang from a chance trip to Venezuela as a teenager with his friend and classmate Jason Hall, then an amateur lepidopterist. The pair spent the summer exploring rainforests and studying butterflies attracted to bait traps. To Willmott, the results were magical.
"It almost seemed miraculous that you could hang a trap in the forest with a piece of rotten banana and come back a few hours later and find spectacular butterflies that seemed to have appeared from nowhere," he said. "I thought that here was a field where even someone with no experience could make new discoveries."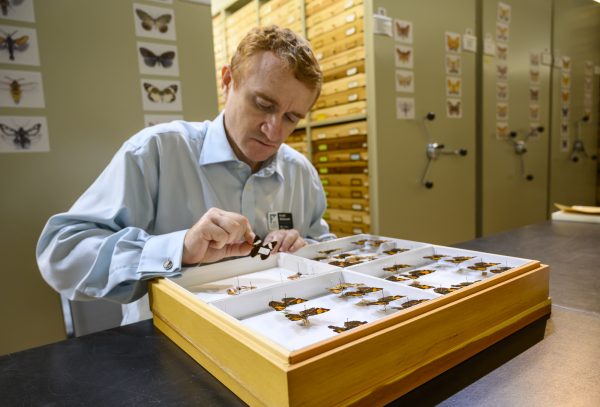 The 17-year-old Willmott was captivated by the beauty and diversity of Neotropical butterflies. He realized little was known about them: why certain species were widespread while others were extremely rare; why they often lived in very particular habitats; and why a modest change in elevation could reveal a completely different set of butterflies. He saw them as part of a natural puzzle "that nobody knows the answer to, an incredible, endless set of questions."
After Hall moved from the United Kingdom to Florida to pursue a Ph.D. with Emmel as his adviser, Willmott decided to do the same, beginning his doctoral degree in entomology in 1994. His father was mildly alarmed at the decision, but Willmott reassured him "it was only for a few years" and that he would pursue a more traditional career track after completing the degree.
Twenty-six years later, Willmott continues to devote himself to studying the evolutionary relationships, distribution and conservation of Neotropical butterflies, especially from the megadiverse but poorly studied regions of the Andes.
---
Sources: Keith Willmott, kwillmott@flmnh.ufl.edu, 352-273-2012;
Douglas Jones, dsjones@flmnh.ufl.edu