Florida Museum of Natural History researcher Andrei Sourakov has a soft spot for small, winged creatures, and an extraordinary commitment to sharing his passion with younger generations.
His latest study published online in the June 2013 issue of Florida Entomologist is co-authored by Museum volunteer Logan Locascio, a student who graduated from Lincoln Middle School this year. Their experiments show ornate bella moths feeding on some plant species cause the insects to develop faster than those feeding on others. For Locascio, the experiments resulted in a project that earned third place in zoology in the junior division at the state's science and engineering fair and a special award for the second-best agriculturally oriented project.
"It was a good project for a middle school student," said Sourakov, collections coordinator at the Florida Museum's McGuire Center for Lepidoptera and Biodiversity. "It's also a simple way to teach a person about insect development, and how to do a simple statistical analysis of data."
Sourakov was first attracted to ornate bella moth, Utetheisa ornatrix, because of its vibrant colors and frequently variable patterns, he said. With a wingspan measuring less than 2 inches, the bella moth is marked by yellow front wings with white bands and black dots, and bright pink hind wings with a black band.
"I really love this system, and it's very simple to involve students in working with it, because the moth is easy to breed in captivity," Sourakov said. "I think this is the beginning of a beautiful friendship between me and the bella moth."
While this is only Sourakov's second year studying the bella moth, he said the insects have great potential for research, especially because past lab experiments at universities like Cornell used artificial diets, rather than host plants found in Florida. He initially wondered if different host plants affected the moth's color patterns, as it feeds on a variety of plants in the genus Crotalaria, many of which are non-native.
"I started rearing the moths under controlled conditions on different host plants and then I started learning more and more about it in my usual way, where one question generates about a hundred new questions," Sourakov said. "It's a typical case where you start studying one thing but end up studying another."
Sourakov and Locascio fed the moths two exotic host plants native to Africa, Crotalaria incana and Crotalaria lanceolata, which were both introduced to Florida in the last century to enrich soil and improve crops, and were found growing behind the Museum on Hull Road near 34th Street. The introductions, as is frequently the case, backfired when farmers discovered the plants are poisonous to cattle. Some of the 10 introduced Crotalaria species are weeds and most are now considered more of a nuisance, Sourakov said.
"The reality is that if you look at the population of this moth in Florida, it probably relies much more on exotic plants than native plants today," Sourakov said. "That's kind of interesting in itself, I think – the native moth species probably benefits from all the introduced plants, for good or for bad."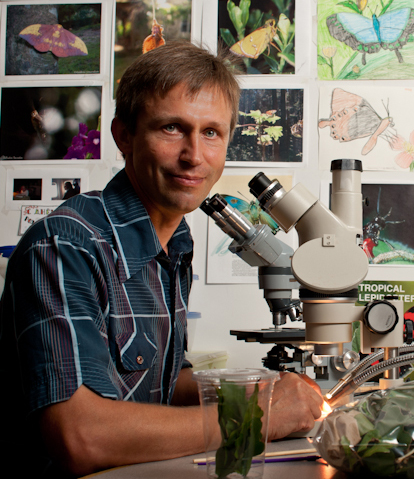 For bella moths, some of the introduced plants – confused by many people as native to Florida because of their prevalence – may offer a biological advantage, since male moths reared on C. incana developed about twice as quickly and became larger than those reared on C. lanceolata.
"The females are the ones that make a choice between males, and it has been shown that females prefer larger males," Sourakov said. "If you imagine an ecosystem with both native and exotic species of Crotalaria, and you imagine a female emerges and flies between these plants and lays eggs from the same egg batch, the ones that develop faster and will be bigger will have an advantage compared to the ones that developed slower and into smaller males."
While bella moths feeding on C. incana took 24 days to develop from egg to pupa, those feeding on C. lanceolata took 45 days.
"That's a very big difference and frankly, I was just amazed – I never expected that," Sourakov said. "We started them on two different plants and then opened the cups and in three days, one was just doubled in size, while the other was five times bigger. It's very impressive."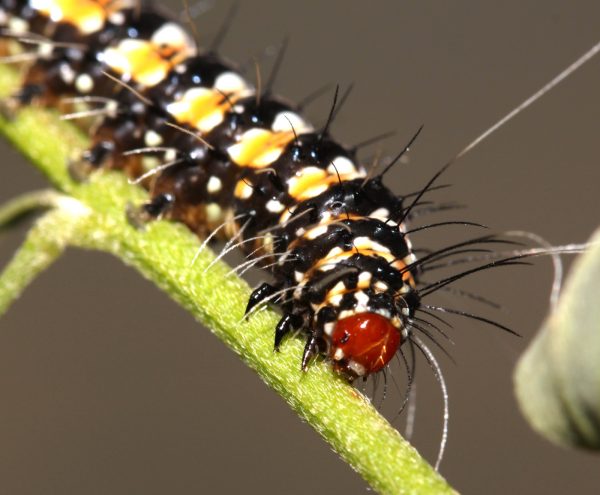 "I have since tested other Crotalaria host pants, including one native species and three exotics, and the results confirmed the conclusions that Logan and I reached: different host plants lead to different rates of development," he said. "I've been searching out different populations of bella moths around Gainesville, and found that all these Crotalaria species, whether native or exotic, are attacked by the bella moth, but, surprisingly, nothing else. This is because the moth needs the Crotalaria alkaloids for its reproduction and defense against predators."
Sourakov now hopes to explore how the different host plants change the moth's chemistry, something that also may indicate an ongoing evolutionary process directed by human interference with the environment, he said.
"It's a very interesting study organism – I can see so many things that can be done with it," Sourakov said. "All I need is more volunteers like Logan Locascio, willing to work long hours during their school breaks and weekends in pursuit of science."
The first published work resulting from this study may be viewed online.
---
Learn more about the McGuire Center for Lepidoptera & Biodiversity at the Florida Museum.