The Thompson Earth Systems Institute at the University of Florida has hired Rebecca Burton as its communications manager. Burton's first day at the institute was Feb. 11.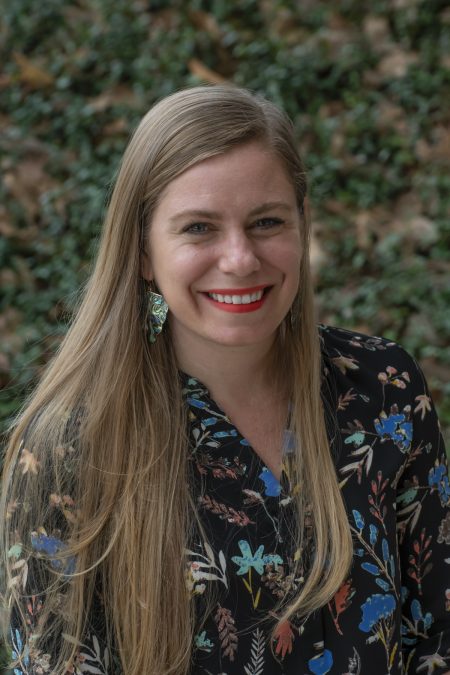 Burton previously served as the communications coordinator of Florida Sea Grant, a UF-based program that supports research, education and extension to conserve Florida's coastal resources and improve economic opportunities in the state. In her new role, she will focus on helping the institute communicate research from UF's more than 60 centers, institutes, departments, and related organizations dedicated to understanding Florida's air, water, land and life and the impacts people have on them.
The overarching goal of the institute is to positively impact a diverse set of public audiences for the overall benefit of Florida and its natural systems, and Burton's experience makes her a valuable contributor to the institute's mission, said Bruce MacFadden, director of the institute and a curator of vertebrate paleontology at the Florida Museum of Natural History.
"We're pleased to welcome Rebecca as an experienced communications professional," he said. "She is well-poised to share the institute's messages and UF's research discoveries to improve public understanding of the future of Florida's natural systems and beyond."
A native of Pensacola, Burton has reported for Health News Florida, The Gainesville Sun and The Miami Herald and is an alumna of The New York Times Student Journalism Institute. She serves on the Florida Outdoor Writers Association's board of directors and is a member of the National Association of Science Writers. She received her bachelor's degree in journalism from Florida International University and a master's in science and health communication from UF.
She is also one of the founders of The Marjorie, an online publication that promotes a greater understanding of issues related to women and the environment in Florida through storytelling, community-building and education.
---
Source: Bruce MacFadden, bmacfadd@floridamuseum.ufl.edu, 352-273-1937
Learn more about the UF Thompson Earth Systems Institute