Volunteers can channel their inner paleontologist by digging alongside museum scientists at the Florida Museum of Natural History's Montbrook fossil site in Levy County starting Thursday, Oct. 5.
About 40 minutes southwest of Gainesville, the excavation area includes an exposed riverbed close to an ancient coastline that has produced a wealth of fossils about 5 to 5.5 million years old, an age not commonly found in Florida.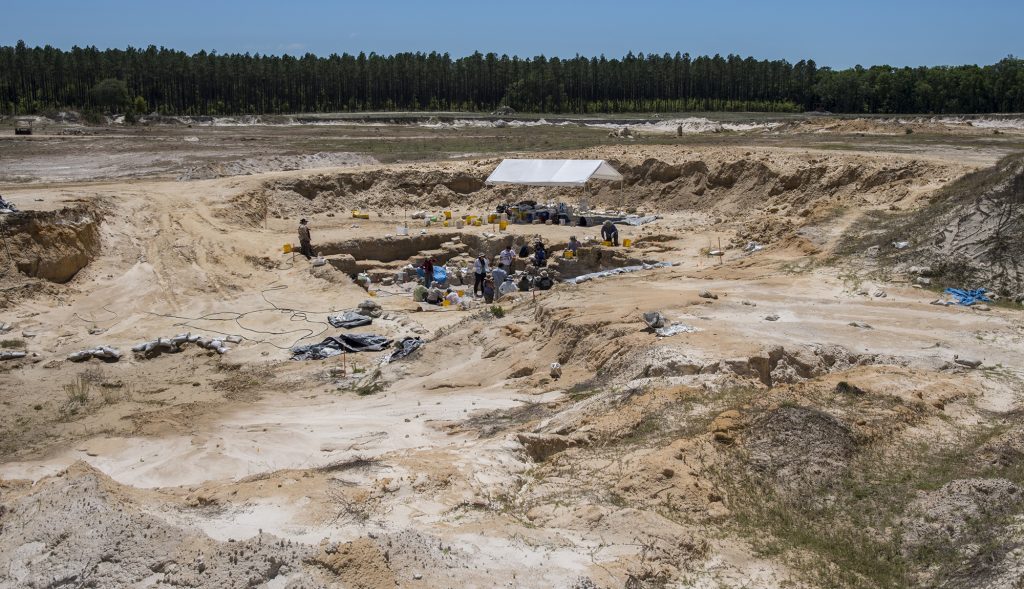 Among the more common turtle and fish fossils, last year's findings included bones from a saber-toothed cat, a six-pronged antelope, otters, a tapir, elephant-like gomphotheres, horses, llamas, a variety of birds and possibly the oldest deer fossil discovered in North America.
The richness of the site is one of the factors that makes it an ideal volunteer opportunity, said Florida Museum curator of vertebrate paleontology Jon Bloch.
"A lot of the time when we go on fossil digs, we find nothing, and in this locality, that is absolutely not the case," Bloch said. "Pretty much everyone who comes out finds fish and turtle fossils, if not also alligator. Many folks will find more complete specimens, mammals or — if they're really lucky — something rarer like a saber-toothed cat skull."
To download an application and view the schedule, visit www.floridamuseum.ufl.edu/vertpaleo/volunteering/field/. The excavation will continue into the spring.

Volunteers may work a single day, a few days or on a regular basis. They must be at least 15 years old and able to work outdoors and walk over uneven terrain.
"If you can work in a garden for a couple of hours, then you can dig here," said vertebrate paleontology collections manager Richard Hulbert, who manages the dig with Bloch. "The sediment is really easy to dig. It's not like solid rock or something you have to hammer or chip away."
Discovered in 2015, the site offers an abundance of fossils from a period that had previously been poorly represented in Florida's fossil record, Bloch said.
"Everything we find at this site is valuable and interesting to us, and volunteers get to be part of actual scientific discoveries in real time," he said. "This isn't some kind of thing that's staged for them. Almost all of our really rare, excellent fossils have been discovered by our volunteers."
This season's wish list includes more complete fossils of otters and swans; horse, llama and camel skulls; the lower jaw of the saber-toothed cat; and the elusive red panda, an animal that cropped up at similar sites in Tennessee but has not yet been found in Florida.
About 380 volunteers participated the previous season, and Bloch's team is hoping for a similar turnout this year.
"This is a pretty large-scale excavation that is somewhat time-limited, and we need all the help we can get," Bloch said. "There's no way we could do this without volunteers."
For more information, contact Rachel Narducci at rnarducci@flmnh.ufl.edu or visit the volunteer page.
---
Sources: Jon Bloch, jbloch@flmnh.ufl.edu, 352-273-1938
Richard Hulbert, rhulbert@flmnh.ufl.edu, 352-273-1930
Learn more about Vertebrate Paleontology at the Florida Museum.