Museum staff began surveying local moths in 2005. So far nearly 1,000 different moth species have been recorded from Paynes Prairie Preserve State Park and adjacent areas, highlighting the significant biodiversity in Gainesville.
Summary
Paynes Prairie Moths (various species)
From Alachua Co., Florida, 2005–2006
Collection
Story
Paynes Prairie Preserve State Park is a 21,000-acre natural landmark with over 250 known species of birds, alligators, bison, wild horses and all kinds of other wildlife. In 2007 the late George Austin, McGuire Center's first collection manager, initiated a collection of moths recorded in Paynes Prairie focusing on the northern edge near La Chua sink. I joined the team by helping collect and identify specimens to add to a growing list of species and now I'm in charge of the survey.
In the past few years since George's death in 2009, we have enlisted several specialists in different families of moths to identify specimens collected during each year. Often, a collecting trip has been included in the activities of the annual meetings of the Lepidopterists' Society and the Southern Lepidopterists' Society.
As of April 27 of this year (2017), we have recorded 44 families of moths, 957 identified species and an additional 58 species that are named only to the genus level so far. At least one of these species is new to science. The largest representation is in the Noctuidae with 137 species included. Fourteen species were added in October 2016.
The value of surveys such as this one is to provide baseline data concerning what species are present in the study area. In addition, the collaboration of citizen scientists in collecting and identifying moths provides learning and appreciation of this fascinating and diverse group of insects. I owe many thanks to over 30 people of all ages who have assisted us in this ongoing project. There are many, many habitats in the prairie still to be sampled and many more species to discover.
Charlie Covell
Adjunct Curator, McGuire Center for Lepidoptera and Biodiversity*
Florida Museum of Natural History
---
Exhibit
On display Sept. 23, 2017-Jan. 7, 2018, Rare, Beautiful & Fascinating: 100 Years @FloridaMuseum celebrated the Museum's rich history. Each Museum collection was asked to contribute its most interesting items and share the stories that make them special. Though the physical exhibit is closed, this companion website remains online, providing an opportunity to experience the Florida Museum's most treasured specimens.
Exhibit Area: Objects Tell Stories

Theme: Surprising Biodiversity

---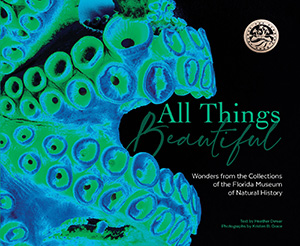 Want to see more? Explore more than 300 breathtaking color photos of plants, animals, fossils and cultural heritage materials from the Florida Museum of Natural History's collections in the award-winning book All Things Beautiful available from the University Press of Florida.
---
*This title was accurate at the time the exhibit was on display in 2017. Please visit the collection website to verify current staff and student information.