Archaeological sites can provide clues to past climate change, including warm periods with increased storm activity. These remains provide evidence for a hurricane – a storm surge washed the turtle and dolphin ashore, and land snails arrived to feast upon decaying seagrass.
Summary
Animal Remains: Warm Period
From Lee Co., Florida
Lived ~AD 300
Sea Turtle Bones (Chelonia mydas)
Land Snail Shells (Truncatella pulchella)
Bottlenose Dolphin Bones (Tursiops truncatus)
Collection
Story
Among others, each of these specimens is evidence for a warm, stormy climate episode that impacted the Calusa people of Pineland in coastal Southwest Florida. The dolphin and sea turtle were victims of a devastating hurricane and storm surge at that location that took place about 1,700 years ago.
In the aftermath, the land snails benefited from the wrack lines of decaying sea grasses that had washed ashore. This tiny snail, called Beautiful Truncatella, lives its whole life on the wrack lines of sea grasses and other rotting vegetation. It's a land snail, not a marine snail, yet for archaeologists it's a great indicator of where a wrack line was from an ancient storm. When we find hundreds of Truncatella shells we can be pretty sure that there was a storm surge at one time that ended at that spot.
Bill Marquardt
Curator, South Florida Archaeology & Ethnography*
Director, Randell Research Center*
Florida Museum of Natural History
---
Exhibit
On display Sept. 23, 2017-Jan. 7, 2018, Rare, Beautiful & Fascinating: 100 Years @FloridaMuseum celebrated the Museum's rich history. Each Museum collection was asked to contribute its most interesting items and share the stories that make them special. Though the physical exhibit is closed, this companion website remains online, providing an opportunity to experience the Florida Museum's most treasured specimens.
Exhibit Area: Objects Tell Stories

Theme: Changing Climate
---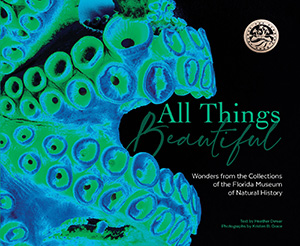 Want to see more? Explore more than 300 breathtaking color photos of plants, animals, fossils and cultural heritage materials from the Florida Museum of Natural History's collections in the award-winning book All Things Beautiful available from the University Press of Florida.
---
*This title was accurate at the time the exhibit was on display in 2017. Please visit the collection website to verify current staff and student information.