In the Arctic, people made water-repellent coats or parkas from sea mammal intestines. Most museum examples are stiff and flattened after years of storage, but this gut parka is exceptionally well-preserved, in part because of the excellent care provided by the Reeves.
Summary
Parka
Made by Eskimo (Alaska) or Inuit (Canada)
Dates to ~19th century
Gift of I.S.K Reeves & Sara W. Reeves
Collection
Story
In the Arctic, water-repellent parkas were traditionally made of seal mammal intestines such as Bearded Seal, Walrus and Sea Lion. This 19th-century example is very well preserved and the vertical layout of the sewn panels indicates it could be from either Canada or Alaska. The parka would be linked with the Eskimo-Aleut linguistic group in Alaska, but in Canada it would be Inuit, the name preferred by the First Nations of Canada living in the Arctic.
Susan Milbrath
Curator, Latin American Art and Archaeology*
Florida Museum of Natural History
---
Exhibit
On display Sept. 23, 2017-Jan. 7, 2018, Rare, Beautiful & Fascinating: 100 Years @FloridaMuseum celebrated the Museum's rich history. Each Museum collection was asked to contribute its most interesting items and share the stories that make them special. Though the physical exhibit is closed, this companion website remains online, providing an opportunity to experience the Florida Museum's most treasured specimens.
Exhibit Area: Faces of the Museum

Theme: Donors

---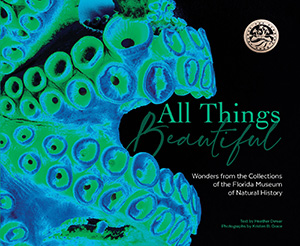 Want to see more? Explore more than 300 breathtaking color photos of plants, animals, fossils and cultural heritage materials from the Florida Museum of Natural History's collections in the award-winning book All Things Beautiful available from the University Press of Florida.
---
*This title was accurate at the time the exhibit was on display in 2017. Please visit the collection website to verify current staff and student information.