Many whale species swim near Florida shores. They sometimes become stranded and die on Florida beaches, as did this juvenile Humpback. The Museum is the state repository for endangered species, used to better understand the organisms and inform their conservation.
Summary
Humpback Whale Skeleton (Megaptera novaeangliae)
From Volusia Co., Florida, Jan. 1990
Collection
Story
Among the many awe-inspiring treasures found in the mammal collections are the skulls and skeletons of the whales that we preserve. There's nothing quite like turning the corner and standing next to a skull taller than you are. One of the many species of whales that we have is a humpback whale. This particular specimen, a juvenile male, stranded off the coast of Florida in Volusia County off of New Smyrna Beach in January of 1990.
Humpback whales are found all over the world and can migrate up to 16,000 miles every year. We're more likely to see humpback whales off the coast of Florida during the winter when they are migrating to tropical waters south to breed and give birth. An interesting fact is that during the winter when they are breeding, humpback whales don't eat at all and instead live off their fat preserves.
Recent work on the genetics of humpback whales has shown that the populations found in the North Atlantic, North Pacific and Southern oceans are more different than previously thought and that they might be considered separate subspecies and on separate evolutionary paths. More work is needed to better understand if these different populations are coming into contact or not.
Verity Mathis
Collection Manager, Mammals*
Florida Museum of Natural History
---
Exhibit
On display Sept. 23, 2017-Jan. 7, 2018, Rare, Beautiful & Fascinating: 100 Years @FloridaMuseum celebrated the Museum's rich history. Each Museum collection was asked to contribute its most interesting items and share the stories that make them special. Though the physical exhibit is closed, this companion website remains online, providing an opportunity to experience the Florida Museum's most treasured specimens.
Exhibit Area: Objects Tell Stories

Theme: Surprising Biodiversity

---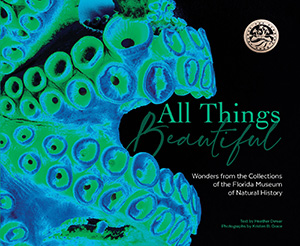 Want to see more? Explore more than 300 breathtaking color photos of plants, animals, fossils and cultural heritage materials from the Florida Museum of Natural History's collections in the award-winning book All Things Beautiful available from the University Press of Florida.
---
*This title was accurate at the time the exhibit was on display in 2017. Please visit the collection website to verify current staff and student information.