Caribbean Monk Seals were last seen in the 1950s, in part because people overhunted them for oil and overfished their food sources. This bone comes from a Calusa archaeological site, where people may have taken advantage of a seal that washed ashore during a storm.
Summary
Caribbean Monk Seal Bone (Neomonachus tropicalis)
From Lee Co., Florida
Lived ~AD 300
Collection
Story
It's unusual to find seal bones in a Florida archaeological site, but this bone is from the flipper of a Caribbean Monk Seal. It was found in a site dating to about 1,700 years ago. The South Florida native Indian people did not frequently eat seals, so we think this animal may have washed ashore after a big hurricane around 300 A.D. We think this because the monk seal bones were directly associated with remains of shellfish and other marine animals that are not normally expected at this site. This means that they must have been left there by a massive storm surge from a hurricane.
Bill Marquardt
Curator, South Florida Archaeology & Ethnography*
Director, Randell Research Center*
Florida Museum of Natural History
---
Exhibit
On display Sept. 23, 2017-Jan. 7, 2018, Rare, Beautiful & Fascinating: 100 Years @FloridaMuseum celebrated the Museum's rich history. Each Museum collection was asked to contribute its most interesting items and share the stories that make them special. Though the physical exhibit is closed, this companion website remains online, providing an opportunity to experience the Florida Museum's most treasured specimens.
Exhibit Area: Extinction
Theme: Lost Biodiversity
---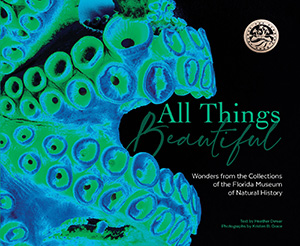 Want to see more? Explore more than 300 breathtaking color photos of plants, animals, fossils and cultural heritage materials from the Florida Museum of Natural History's collections in the award-winning book All Things Beautiful available from the University Press of Florida.
---
*This title was accurate at the time the exhibit was on display in 2017. Please visit the collection website to verify current staff and student information.