Early Seminoles made traditional baskets from split saw palmetto stems, but introduced sweetgrass baskets in the early 20th century to sell for extra income. Paul Billie, a well-known Seminole painter, made this basket featuring triangular step designs unique to the Museum's collection.
Summary
Coiled Sweetgrass Basket
Made by artist Paul Billie, Seminole, South Florida
Dates to ~1970–1990
Collection
Story
This is an unusual basket. It was donated to us by Keith and Sara Reeves. One of our former students, Austin Bell – he's now curator of the Marco Island Historical Museum – studied this basket in detail and he proposed that it was the work of a Seminole artist named Paul Billie. Now Paul Billie was best-known as a painter and his paintings are very striking and detailed, but he did experiment freely with other media and one of those was basketry.
Now, making baskets is traditionally a woman's art, so that Paul Billie made it was unusual. Early on, utilitarian baskets were made from split cane or palmetto stems, but later some were made of tight bundles of pine needles. And still later sweetgrass become a really popular medium for the Seminoles. But this basket of Paul Billie's used a combination of pine needles and sweetgrass. Also, it features triangular step designs which are very unusual in Seminole work. So this basket is not only beautifully made, but it's unusual in several ways and we are privileged to have it in our collection.
Bill Marquardt
Curator, South Florida Archaeology & Ethnography*
Director, Randell Research Center*
Florida Museum of Natural History
---
Exhibit
On display Sept. 23, 2017-Jan. 7, 2018, Rare, Beautiful & Fascinating: 100 Years @FloridaMuseum celebrated the Museum's rich history. Each Museum collection was asked to contribute its most interesting items and share the stories that make them special. Though the physical exhibit is closed, this companion website remains online, providing an opportunity to experience the Florida Museum's most treasured specimens.
Exhibit Area: Objects Tell Stories

Theme: Beautiful Artistry
---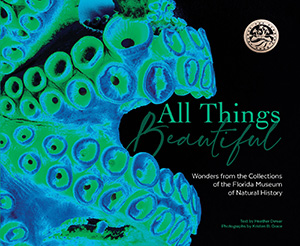 Want to see more? Explore more than 300 breathtaking color photos of plants, animals, fossils and cultural heritage materials from the Florida Museum of Natural History's collections in the award-winning book All Things Beautiful available from the University Press of Florida.
---
*This title was accurate at the time the exhibit was on display in 2017. Please visit the collection website to verify current staff and student information.