Agatized Coral forms when silica replaces the original calcium carbonate skeleton of a coral colony. This replacement process creates beautiful specimens with cave-like appearances.
Summary
Agatized (Fossil) Coral (Siderastrea sp.)
From Florida
Lived ~34–28 million years ago (Early Oligocene)
Florida State Stone
Collection
Story
This is an example of Florida's state stone, which are the fossilized remains of colonial corals which became colorful geodes lined with smooth spherical-shaped agate. The transformation occurs over time when the coral's original calcium carbonate skeleton is slowly dissolved by acidic groundwater and partially replaced by dissolved silica. The various colors are due to deposition of trace minerals (like iron and manganese) during this process.
This magnificent specimen is part of a collection that was generously donated to the Florida Museum in 2008 by Gene Hamm and his family of High Springs, Florida. For over 40 years Mr. Hamm, his wife and children regularly explored sites along the Suwannee and Withlacoochee rivers looking for these rare 20- to 34-million-year-old specimens.
Roger Portell
Collection Manager, Invertebrate Paleontology*
Florida Museum of Natural History
Additional Information
---
Exhibit
On display Sept. 23, 2017-Jan. 7, 2018, Rare, Beautiful & Fascinating: 100 Years @FloridaMuseum celebrated the Museum's rich history. Each Museum collection was asked to contribute its most interesting items and share the stories that make them special. Though the physical exhibit is closed, this companion website remains online, providing an opportunity to experience the Florida Museum's most treasured specimens.
Exhibit Area: 100 Years of History

Theme: Sunshine State Symbols

---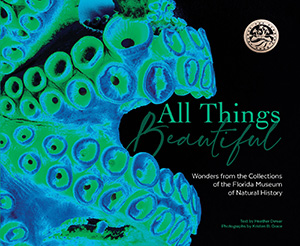 Want to see more? Explore more than 300 breathtaking color photos of plants, animals, fossils and cultural heritage materials from the Florida Museum of Natural History's collections in the award-winning book All Things Beautiful available from the University Press of Florida.
---
*This title was accurate at the time the exhibit was on display in 2017. Please visit the collection website to verify current staff and student information.