Florida Museum and Alachua County Public Schools Engaging Students in the Practices of Science Program, Fall 2018
Report provided by Dianne Behringer, School Programs Coordinator
Thanks to funding from the Smallwood Foundation and proceeds from the Passport to the Galapagos gala hosted by Florida Museum of Natural History Associates Board, the Florida Museum delivered the Permian Monsters: Engaging Students in Practices of Science program to fourth grade students from Alachua County Public Schools. Teachers received content knowledge, hands on science activities and resources to use in their classrooms. Students received a two hour, guided inquiry-based field trip. Additionally, students at six low performing schools participated in hands on activities during a pre-field trip visit by Museum staff.
Participants
| | |
| --- | --- |
| 21  Alachua County Public Schools | 2  Florida Museum staff |
| 32  Teachers, teacher workshop | 4  UF student educators |
| 1875  Fourth grade students, field trips | 20  Docents |
| 512  Fourth grade students, classroom visits | |
During the first three years of this program, Museum staff and docents noticed a disparity among student performance. Some students were less prepared for the field trip, demonstrated less knowledge about program content and had difficulty reading exhibit text panels. We partnered with the Alachua County Public Schools (ACPS) science curriculum specialist to determine how we could improve our programs to assist these students. While Museum assessment of these students is anecdotal and general, ACPS corroborated our observations with reports of low state assessment scores in science, math and language arts at some schools. To assist these schools, the Museum received grant funding from the Smallwood Foundation to develop curriculum based pre-field trip classroom visits to better prepare students for the field trip. Six schools were chosen based on low standardized test scores and school performance grades: Idylwild, Lake Forest, Metcalfe, Rawlings, Shell and Terwilliger.
Teacher Workshop
Fourth grade teachers attended a workshop to learn Museum staff and scientists about the Permian time period, paleontology, the process of science and how to connect exhibit content to their standards and curriculum. Each teacher received classroom activities, laminated Pangea puzzle sets, a poster-sized Permian timeline, two real Permian fossils, ten Florida fossils and a DVD on Mass Extinctions.
Classroom Visit
Prior to the field trip, Museum staff and UF student educators visited all fourth grade classrooms at the six participating schools. The students used fossil evidence to piece Earth's continents and land masses together to form Pangea as it was 250 million years ago. They observed real Florida fossils, inferred which animals they came from, and discussed how the fossils were formed and where they were found.
Field Trip
The two hour field trip included hands on activities about fossils and paleontology and a guided scavenger hunt in the Permian Monsters: Life before the Dinosaurs exhibit to learn about the Permian animals and extinction. Students prepared a plaster jacket, identified their found fossils and took them home. They demonstrated the fossilization process by making a mold fossil of a trilobite. Students also self-guided the Florida Fossils: Evolution of Life and Land exhibition hall to learn more about the Florida fossils they used in the pre-visit classroom activities.
Outcomes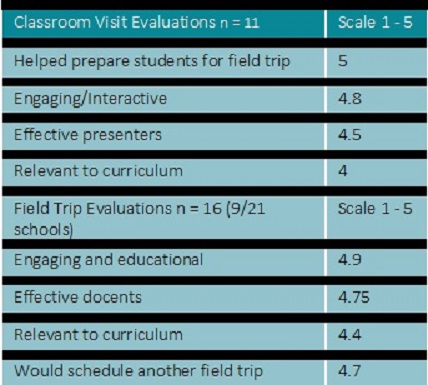 Field trips benefit students by providing real world opportunities, unique experiences not easily replicated in the classroom, access to unfamiliar environments and opportunities to improve critical thinking. Museum education research shows that these benefits are significantly larger for disadvantaged students. Pre-field trip activities further benefit students because they build both relationships and knowledge. They set expectations for what the students will see and do and prepare them academically by addressing the content of the field trip through hands on activities. Furthermore, the UF Education students served as role models for the fourth graders; their energy and enthusiasm were a terrific match with the students.
During the field trips, we noticed vast improvement in student ability to ask effective questions, make logical connections, engage in discussions and use scientific tools and processes. Several teachers from the selected schools commented that the success of the field trip was due to the classroom pre-visits.
Our evaluation scores are high in every category. However, we did receive feedback that it was difficult for some teachers to connect to the curriculum. Geologic time and paleontology are not taught in fourth grade. While we correlated content to the "process of science" standards, next year we will choose an exhibit and topic that more directly connects to curriculum subject matter.
Field trips inspire students to be curious about learning, a foundation of science. Inquiry-based, hands-on experiences enhance student understanding of the nature of science. Teachers valued this enriching program with one commenting, "I'm so glad we came. The opportunity we had today is what learning is all about."
Quotes
"Funding from the Museum Associates Board and Smallwood Foundation allowed us to inspire children to be curious about life on Earth through unique science experiences and real world opportunities. Adding the pre-visit classroom component provided the opportunity to develop a complete educational program with hands-on activities that gave students a foundation to build their knowledge. During the field trip, students were better able to make observations, ask effective questions, describe their findings and improve their critical thinking because of their participation in the pre-visit activities. It was incredible to witness."
—Dianne Behringer, School Programs Coordinator, Florida Museum of Natural History
"It was amazing! Really great program. The 4th graders totally loved it."
—DJ Chandler, Rawlings Elementary School
"The Florida Museum field trip my fourth grade class participated in was a wonderful experience for us all. The trip brought the concepts and information learned in class to life! It helped cement what they already knew, and sparked their interest in a vast array of new ideas! We are very thankful the expertise and beautiful facilities that we were privileged to experience."
—Mr. James, W. A. Metcalfe Elementary School
"Thank you for inviting us to the museum! The activities and lesson aligned very well with our standards. The students truly enjoyed the hands on activities and take home projects. The visit prior to the field trip was beneficial to the students and myself. The docents were incredible!"
—Shanda L. Haynes, Rawlings Elementary School 
"I learned so much as an education assistant, but the best part of this project was leading museum tours for the kids whose classrooms we had visited. They remembered so much about the Permian Period, and were so excited to see first-hand what we had taught them. Because of this they were also better able to make connections with harder concepts like mass extinction and climate change. That was powerful to see and gave me a better understanding of the value of museum education programs."
—Lynea Wilson, UF Student
"Alachua County Public Schools is so thankful for the partnership we have with the Florida Museum of Natural History. The education team from the museum provides a dynamic learning experience for our students and teachers! The teacher training was a well conducted professional learning opportunity for our educators and the field trip provides a hands-on day for our students. It is always fun to see the excitement on student faces when they enter the museum!"
—Carly Mikell, Science Curriculum Specialist, Alachua County Public Schools
School Data
Date

School
Previsit Date
# Students (day of)
Total Adults
Teacher Training
Evaluation
Tu, Oct 16
Newberry
118
37
yes
No
Th, Oct 18
Wiles
136
23
yes
Yes
Tu, Oct 23
Chiles
133
36
yes
No
Th, Oct 25
Alachua
87
17
yes
Yes
Fri, Oct 26
Finley
117
24
yes
No
Tu, Oct 30
Foster
96
12
yes
No
Th, Nov 1
Glen Springs
77
15
yes
Yes
Th, Nov 8
High Springs
105
35
yes
Yes
Fri, Nov 9
Archer
85
28
yes
Yes
Tu, Nov 13
Norton
100
24
yes
No
Th, Nov 15
Shell
16-Oct
47
14
yes
Yes
Fri, Nov 16
Williams
59
13
no
No
Tu, Nov 27
Lake Forest
1-Nov
51
7
yes
No
Th, Nov 29
Metcalfe
6-Nov
33
3
no
Yes
Tu, Dec 4
Littlewood
91
17
yes
No
Th, Dec 6
Terwilliger
8-Nov
54
6
yes
No
Fri, Dec 7
Rawlings
16-Nov
55
5
No
No
Tu, Dec 11
Meadowbrook
133
67
yes
Yes
Th, Dec 13
Hidden Oak
115
37
yes
Yes
Fri, Dec 14
Idylwild
22-Oct
88
9
yes
No
Tu, Dec 18
Talbot
95
26
yes
No
2018 Permian Totals
1875
455
18/21
9/21
2017 100 Years
2012
384
2016 Wicked Plants
1927
411
2015 First Colony
1836
356