Most first-year University of Florida students won't be working in a molecular biology lab studying hawkmoth DNA during their summer break. But that is exactly what Francesca Ponce, an undergraduate from Ecuador, is doing.
Ponce just completed her first year at UF and recently received a Howard Hughes Medical Institute Science for Life Undergraduate Research Award.
"I'm very excited to begin my research," Ponce said. "I never thought I would have an interest in hawkmoths before starting in Dr. Akito Kawahara's lab. Then as I settled in and got more involved, I realized how important the work was to understanding biodiversity and species evolution and I became very interested in contributing to the research."
Ponce is working 30 hours per week this summer and 15 hours per week during the fall and spring semesters studying the DNA and molecular samples of a group of hawkmoths, known as Eumorpha, in Kawahara's lab at the McGuire Center for Lepidoptera and Biodiversity on the UF campus. Kawahara, an assistant curator of Lepidoptera at the Florida Museum of Natural History, will serve as Ponce's mentor and guide her research.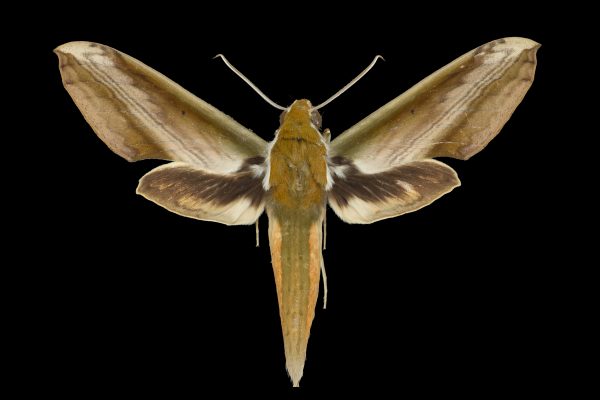 Ponce has worked as an assistant in the lab since October preparing specimens for DNA extraction, analysis and sequencing. As one of the many projects in the lab, students and researchers are working to build an entire evolutionary tree of hawkmoth species to understand the evolution of hawkmoth biology and behavior.
"Dr. Kawahara has been very encouraging," she said. "I have received a lot of technical advice while I'm in the lab and it is very helpful for the work I will be completing in the next year."
"Francesca will work to determine the evolutionary sequence of host use and feeding in a particular group of understudied hawkmoths containing 30 or so species," Kawahara said. "This is a comprehensive project for an undergraduate student. Her research will help our larger study on the evolution of these spectacular insects, their associated plants and predators."
Nearly 1,500 species of hawkmoths occur worldwide and it is one of the fastest flying insects. The moth's wingspan can reach 6 inches and it has a curled proboscis, or tongue, up to 12 inches long used to drink nectar.
The Howard Hughes Science for Life program provides talented, motivated and responsible UF students with a rapid start in research and connects them with outstanding faculty mentors as early undergraduates. Research projects often continue for much of the awardee's career and many lead to undergraduate co-authored publications within peer-reviewed scientific journals or presentations at national meetings.
---
Learn more about the McGuire Center for Lepidoptera & Biodiversity at the Florida Museum.