The field of restoration ecology, in which native flora and fauna are re-established to create more sustainable environments, is taking off in the 21st century as researchers become more aware of the potentially negative impacts of invasive, non-native species. Humans are among the "non-natives" in many areas, having taken over as apex predators in many situations. In the Bahamas, the arrival of humans about 1,000 years ago led to a considerable disruption of the natural food chain.
With a three-year $164,000 National Science Foundation grant awarded in September 2011, Florida Museum of Natural History ornithologist David Steadman is digging into 6,000 years of history, with hopes that a better understanding of how island organisms respond to human influence may aide efforts to restore a more functional ecosystem. By collecting fossils from the Bahamas over the last 6,000 years, well before humans reached the area, he will also analyze how plant and animal communities responded to long-term natural environmental fluctuations.
"People arrived in the Bahamas and soon they wiped out the tortoises, they wiped out the crocodiles, and became a new apex predator capable of eating just about anything, marine or terrestrial," said Steadman, Florida Museum natural history department chair. "People are also warm-blooded, or homeotherms, so we need more energy per pound of body weight to keep going. This requirement rearranges energy flows. All that gets complicated even further by people wiping out certain species, whether they're prey species or other predators, and introducing non-native plants and animals."
Steadman's research, a collaborative project with two Arizona State University geography professors, focuses on the fossil record of Eleuthera and the two Abaco islands in the Bahamas. The project began in January with a trip to Abaco for the Abaco Science Alliance Conference, a meeting held every two years that involves scientists and includes outreach to local residents and students of all ages.
"The conference this year was unbelievably good," said Steadman, who presented new research showing ancient tortoises were the largest herbivores and "Cuban" crocodiles were the apex terrestrial predators, rather than marine. "It's not just a scientific conference — you talk to the students and they pick up on so many refreshing ways of looking at things. My best conversation during those two days was with three 11-year-old boys who came up to me afterward and just had these great questions about blue holes (flooded sinkholes containing fossils) that they know of in their neighborhood."
Because the Bahamas are comprised of 100 percent limestone, or raised carbonate coral sand, plant and animal fossils are exceptionally well-preserved, he said.
"The organic fractions of the plants and animals there are still intact, so we can do radiocarbon dating to get a precise chronology," Steadman said. "Then, we can analyze stable isotopes of carbon and nitrogen to tell us how these animals are functioning in terrestrial ecosystems versus freshwater versus marine, and who's eating who."
The idea for the project was spurred by scuba divers' recent discoveries of abundant fossils in blue holes, named for their deep blue color caused by the shadows of their surrounding walls. Steadman has studied some fossils from blue holes, including two extinct tortoise species and other animals no longer found on the islands, including the Cuban Crocodile and Cooper's Hawk, among other birds, snakes, bats and lizards.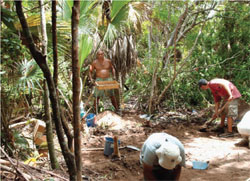 As low-lying oceanic islands, the Bahamas are particularly vulnerable to climate change and natural disasters, and Steadman hopes the research on how prehistoric and contemporary plant and animal communities responded to long-term environmental fluctuations will shed light on how they might respond to climate change in the future. "I'll have a lot of eager minds and strong backs to excavate fossils in dry caves," he said. "We'll have the scuba divers there to bring fossils out of blue holes and we'll be surveying modern lizards, birds and plants to give the students a pretty intense six days of digging up the past, as well as understanding what's happening on the islands today.
"Some islands are pretty well trashed now, while on other islands, the ecosystem is still functioning in a fairly natural way," he said. "But even on the most 'pristine' islands, the ecosystems are functioning differently than in pre-human times. If we can determine the natural background level of change that these surviving plants and animals can adapt to, we can use the information to try to come up with conservation programs that would actually improve the future of these islands."future of these islands."