Florida Museum of Natural History botanist and herbarium curator Norris Williams has won the Smithsonian Institution's prestigious José Cuatrecasas Medal for Excellence in Tropical Botany for his 40-year career studying orchids.
The award is given annually to a botanist and scholar of international stature who has made significant contributions to the field of tropical botany. Williams, who is author or co-author on nearly 100 academic papers, received the medal March 28.
His two primary areas of research are floral chemistry, which involves identifying floral fragrances that attract orchid pollinators, and molecular phylogenetics, which involves the study of evolutionary relationships among neotropical orchids. Williams did most of his field work in Panama and Ecuador and has studied orchids in the wild from Mexico to Bolivia since the late 1960s.
Florida Museum director Douglas Jones said Williams' colleagues and friends are thrilled he won the award.
"Norris is truly a world-class scholar and we are fortunate to have him as keeper of the herbarium at the Florida Museum," Jones said.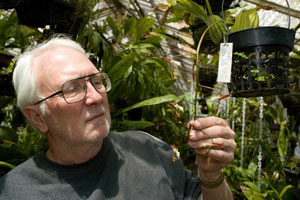 Orchids are the largest family of flowering plants, comprising about 25,000 to 30,000 species. The orchid family has more species than mammal, bird, reptile and amphibian species combined.
"It's a really nice big group of plants with a diverse set of pollination mechanisms and floral morphologies," Williams said.
Williams' work on floral fragrances focuses on male bees that actively collect orchid fragrances for use in mating behavior. Different bee species pollinate different orchid species, and his early work set out to determine how these floral fragrances attracted specific bees.
"We knew they were collecting fragrances, but we couldn't identify a lot of the floral fragrance compounds," said Williams, who used gas chromatography and mass spectrometry in the identification process.
Floral fragrances can have from one or two organic compounds to as many as 60. Williams and his colleagues found that any given fragrance had two or three compounds that attracted certain bees and other compounds that repelled other groups of bees.
Williams helped develop methods for collecting, isolating and identifying those compounds. Some of the compounds were then tested in the field.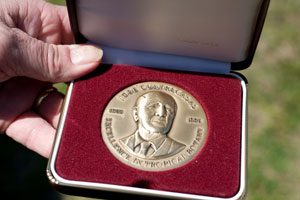 "We showed that some compounds that were attractants to some bees were repellents to other bees," Williams said. "So a plant might be able to selectively attract one species of pollinators out of the whole range of potential pollinators. It leads to reproductive isolation among closely related species that are growing in the same general area."
Williams' other primary research involves classifying groups of neotropical orchids based on DNA sequences. He started working on molecular systematics in 1995 and has since used gene technology to clarify evolutionary relationships that previously were unknown or tenuously suggested.
"It's given us some real ideas on relationships in terms of numbers of groups of orchids," Williams said. "But it's upsetting to horticulturalists who are always complaining that we're changing the names."
Williams received his Ph.D. from the University of Miami in 1971. After postdoctoral positions at the National Museum of Natural History and the Smithsonian Institution, he taught at Florida State University until 1981, when he joined the University of Florida. He holds a joint appointment with the Florida Museum and the botany department.
---