Over the past few years, the Florida Museum of Natural History research on local birds has taken a giant leap forward through cooperative relationships with some of Florida's more than 200 wildlife rehabilitation clinics.
Especially along Florida's Atlantic and Gulf coasts many thousands of birds become sick or injured each year from a variety of causes. Alert citizens often find such birds and take them to a nearby wildlife rehabilitation clinic. Unfortunately, in spite of high-quality care by skilled technicians and veterinarians, many of the bird patients taken to clinics do not survive. In the past, their remains were incinerated. Today, the rehabilitation clinics in Ft. Lauderdale, Gainesville, Key West, Melbourne, Naples, Pensacola, St. Petersburg and Sanibel Island freeze these birds so the Florida Museum of Natural History can prepare them as scientific specimens for further study.
"Many of the people who bring in a bird are relieved to know that even if it doesn't survive, it will serve a useful purpose by being used for science through the donation to the museum," said biologist Leslie Straub, director of Florida Wildlife Care Inc., in Gainesville. The Gainesville care center donates about 50-70 birds, mammals and reptiles to the museum each year, ans Straub said the program has another added benefit. "There was a time when the only place museums could get their specimens was from the wild, but because of conservation concerns and the availability of other sources, removing them directly from the wild is unnecessary," she said.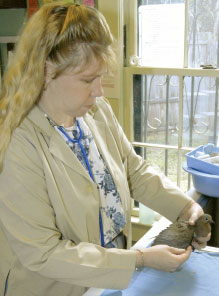 The Florida Museum of Natural History bird collection is one of the largest in the United States. The more than 60,000 specimens of skins, skeletons, eggs and nests, and Pacific island fossils represent nearly 4,000 of the world's 10,000 bird species. Operated by Andrew Kratter, David Steadman and Tom Webber, the museum's bird collection is used by professional and amateur ornithology students from across the globe.
Much can be learned from preparing museum specimens of the birds taken to rehabilitation clinics that do not survive. With help from the University of Florida undergraduate students, and with financial support beginning in 2003 from the Florida Fish and Wildlife Conservation Commission, Kratter, Steadman and Webber have prepared and studied more than 1,200 specimens from these rehabilitation clinics, representing about 200 species of birds.
Each of these specimens improves our understanding of the geographical and seasonal occurrences of birds in Florida, with greatly enhanced biological perspective from the information on age, sex, reproductive condition, molt, injuries and disease gathered while preparing the bird.
Avian treasures that Kratter, Steadman and Webber have salvaged in recent years include rare or poorly known species in Florida, such as the Red-billed Tropicbird, Red-footed Booby, White-winged Scoter, Snail Kite, Crested Caracara, Black Rail, Lesser Black-backed Gull, Roseate Tern and Lesser Nighthawk. A specimen of the Long-billed Murrelet found off St. Petersburg in Pinellas County was just the fourth Florida record fro a species that breeds only in northeastern Asia! A specimen of the White-collared Swift found at Lauderdale Lakes in Broward County was the first record for Florida and the first record of its subspecies to be found in North America. The Swift probably strayed to Florida from its native Cuba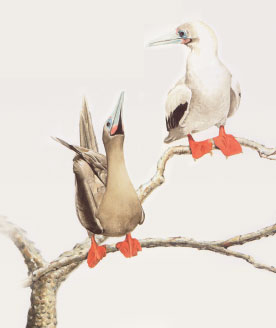 Perhaps the biggest surprise of all came in July 2000, when a fisherman found a shearwater in a weakened condition at sea about 25 miles west of Sanibel Island, called Care & Rehabilitation of Wildlife, but it did not survive. Upon receiving the specimen at the Florida Museum, both Steadman and Kratter recognized it was unusual.
By studying its plumage and bones in meticulous detail, they identified the bird as Short-tailed Shearwater, a species of seabird that nests only on islands in the New Zealand region. Outside of the nesting season, Short-tailed Shearwaters migrate over the Pacific and Indian oceans. Never before had the species been documented in the Atlantic ocean basin!
Many other salvaged specimens are the first verified records of that species for a certain Florida county. Other specimens represent exotic species that are recent arrivals (and potential pests) in Florida, such as the Purple Swamphen, Eurasian Collared-Dove, Monk Parakeet, Common Myna, Spot-breasted Oriole, Shiny Cowbird and House Finch.
Museum collections are anything but dusty, antiquated accumulations of objects. Especially with detailed comparative anatomy and modern molecular techniques, specimens of birds are more valuable scientifically than ever. By plucking one belly feather or clipping the nail from a single toe, scientists today can analyze pesticide residues or heavy metal concentrations, or make a profile of the bird's DNA.
"As our collection grows, it becomes more important to scientists and the public," Kratter said. "For example, the DNA from some of our specimens is now being used in a project to learn how the world's different families of birds are related to each other. Through action and cooperation by scientists and non-scientists alike, Florida's birds are contributing to our understanding of evolution on a global scale."
---
Florida Wildlife Care Inc., is a noprofit 501c3 organization. For more information or to make a tax-deductible donation, call the center's business office, 352-371-4443. For help of information on native wildlife, the 24-hour helpline number is 352-371-4400.