Florida Museum of Natural History researchers recently received $53,000 to enhance the museum's online database of Mayan artifacts.
The two-year grant from the National Endowment for the Humanities coincides with the museum's new temporary exhibit "An Early Maya City by the Sea: Daily Life and Ritual at Cerros, Belize," open through Oct. 7. Florida Museum curator of Latin American art and archaeology Susan Milbrath and Debra Walker, a museum courtesy assistant curator who has worked extensively in Cerros, received the grant. University of Florida anthropology graduate students Jeffrey Vadala and Lucas Martindale Johnson developed the exhibit under their direction.
"Some of the artifacts being displayed are shell trumpets, jade beads, very early cooking pots that date back to 350 BC, lip-to-lip caches, masks and a huge vessel which originally contained a cache of jade heads in it," Milbrath said. "One of the interesting things about Cerros is that a lot of the deposits are caches that are specifically very ritual – in other words, they put things in a certain spot, in a certain way and people are able to recover it because the site was pristine and there wasn't a lot of looting."
Meaning "hills" in Spanish, Cerros is located on the coastal edge of the Corozal Bay, in modern-day Belize. As a trade port, it was a significant locale for the late pre-classic Mayan civilization during its height from 50 B.C. to A.D. 300. It also saw a renaissance as a fishing community at the end of the classic era, about A.D. 800-1500.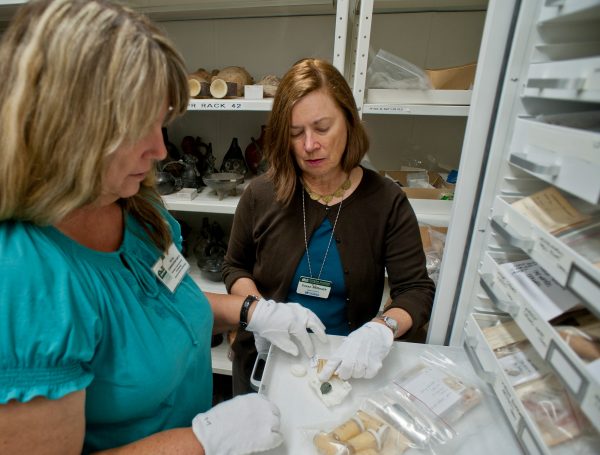 The Florida Museum's Cerros Research Online Catalogue was initiated through funding from UF's Faculty Enhancement Opportunity Fund in May 2011 and includes more than 700 high-resolution photographs of artifacts from the site that will help researchers understand the factors that led to the prosperity of the Mayan civilization. The national grant includes digitization of the collection's more than 2,800 objects, field notes, publications and maps, as well as about 50 3-D images of the finest pieces, Milbrath said.
"The quality of the digital photos is such that if you go in and do a search, you can really get quite close and do research that you normally couldn't do with ordinary pictures," Milbrath said. "For example, you can actually count the number of wires on a copper bell."
Based on radiocarbon dating, Cerros occupants mysteriously abandoned the site in about A.D. 375, and re-inhabited it around A.D. 800, during the collapse of other Mayan sites.
"Cerros is a very cool time capsule because it was occupied for a relative short time period then abandoned, so you don't get any confusion about the chronology in terms of what belongs where," Milbrath said. "This is also the only major complete Mesoamerican late pre-classic collection available for study in the United States – not only will it be the only broadly accessible digital archive from the period when foundation of the Maya civilization took place, but it's also the only large scientifically excavated collection that's physically here in a museum."
To access the Florida Museum's Cerros Research Online Catalogue, visit www.floridamuseum.ufl.edu/cerros/.