During its more than 100-year existence, the Florida Museum of Natural History has inspired people to learn and care about life on Earth and make a positive difference in its future. Similarly, Linda and Ken McGurn's life work has centered on leaving places better than they found them.
Now the McGurns are turning their attention to the ultimate restoration project – Florida. Their conviction that the environment is in dire straits, and that science-driven solutions are crucial, led them to make their largest gift to the Florida Museum to date. Their donation will help fund the more than $32 million expansion planned for the museum. The new wing will become the home of the University of Florida's Thompson Earth Systems Institute, also known as TESI.
"Linda and Ken McGurns' deep commitment to environmental stewardship and the role of science in understanding and protecting our natural world have influenced their generous gifts to the Florida Museum," said Museum Director Douglas S. Jones. "Whether conserving sensitive lands, providing funds for excellence, supporting biodiversity studies, or contributing to a capital project for disseminating critical information about Earth's natural systems, Ken and Linda set the standard for inspiring people to care about life on Earth."
The TESI expansion, in its conceptual phase, will include an auditorium, high-tech classroom, conference rooms, exhibit galleries, multimedia space and distance learning labs. The added space and technology will help the Institute better reach its primary audiences: students, teachers, advocates and policymakers who are in a position to effect environmental change locally, nationally and around the world.
"The McGurns' generous gift for this modern facility will greatly enhance our opportunity to disseminate knowledge about the Earth and its environment for the benefit of Florida's future," said TESI Director Bruce MacFadden.
This mission resonates deeply with the McGurns, who have witnessed an unprecedented disruption to the environment's stability.
"We are one of the most at-risk states in the country," Linda McGurn said. "That's why it's important for Florida to be at the forefront of getting the word out about what we're facing and what we can do about it."
With 1,350 miles of coastline, Florida is ground zero for climate change, vulnerable to rising sea levels, saltwater intrusion and stronger hurricanes.
"We're all connected," Ken McGurn said. "When we affect one part of nature, other parts are affected, too. We need to get that message out."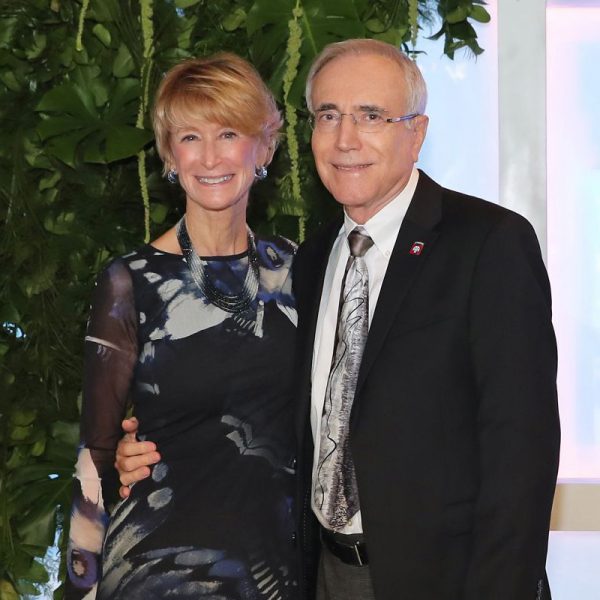 The McGurns made the donation as a capstone to their leadership of the 2019 phase of the University of Florida's Go Greater campaign, which raised a record-setting $519.1 million, with a focus on addressing climate change and other environmental issues. As co-chairs, the couple were able to share their passion for preserving natural resources with fellow Gators and showcase UF's research and conservation efforts.
The gift, they said, is "a natural fit for us" as an extension of their lifelong work to revitalize and restore natural areas for the benefit of future generations.
The funds also enable museum leadership to seek additional support from the Florida Legislature to make the project a reality. With the McGurns' donation and other private support, the museum has acquired more than half of the funding needed for the project.
TESI, founded in 2018 with a leadership gift from UF alumni Jon and Beverly Thompson, advances communication and education about Earth systems science – air, water, land and life – in a way that inspires Floridians to be effective stewards of the planet. The Institute provides science communication training for researchers and connects them to the public through innovative programs. In the past fiscal year, scientists reached 16,000 K-12 students and more than 1,800 Floridians with creative outreach on the interactions between Earth systems and how they're influenced by human activities.
---
Media Contact: Kaitlin Gardiner, kgardiner@floridamuseum.ufl.edu